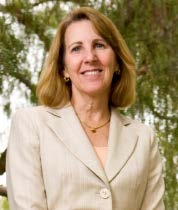 Mary Gilly
2014-15 Academic Senate Chair
Mary C. Gilly is Professor of Marketing in the Paul Merage School of Business at UC Irvine, where she has been on the faculty since 1982. She received her PhD from the University of Houston, her MBA from Southern Methodist University, and her BA from Trinity University.
Her research currently focuses on how consumers interact with and use technology, unintended effects of advertising portrayals, and cross-cultural issues in consumer behavior. Her scholarly work has appeared in journals such as the Journal of Consumer Research, Journal of Marketing, Journal of Retailing, and Journal of Public Policy & Marketing. She has also served as director of the PhD Program at Merage, Vice Dean of Academic Affairs at the UCI Graduate School of Management, Associate Dean of Graduate Studies at UCI, and Visiting Associate Professor of Marketing at the Madrid Business School in Spain. She has held positions on several professional associations, including Academic Director of the Association for Consumer Research and President of the Academic Council of the American Marketing Association.
Professor Gilly chaired the Irvine division of the Academic Senate in 2012-13, and has served on a number of key Academic Senate Committees at Irvine, including Graduate Council (Chair) and Council on Academic Personnel (Chair). She also served as a member of the UCI Special Senate Committee on Diversity and the Senate Council on Privilege and Tenure. In addition to her service on the Academic Council, Professor Gilly has been active at the systemwide level as a member of the University Committee on Academic Personnel.