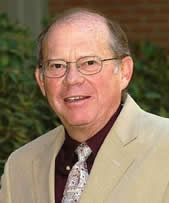 Daniel L. Simmons
2010-11 Academic Senate Chair
Daniel Simmons is a professor of law at the University of California Davis, where he has been on the faculty since 1976. Professor Simmons teaches basic federal income tax, corporate tax and partnership tax. He is a co-author of casebooks on Federal Income Taxation, Federal Income Taxation of Business Organizations, Federal Income Taxation of Corporations, and Federal Income Taxation of Partnerships and S Corpororations, as well as numerous articles. Recent articles include Reform of the California Tax Collection Process and Taxation of Built-in Gain and Loss Property in Partnerships. Professor Simmons received his AB degree in 1964 and JD degree in 1971 from UC Davis. Following law school he was a law clerk for Justice Louis Burke on the California Supreme Court.
Professor Simmons served as a Professor-in-Residence in the Office of the Chief Counsel of the Internal Revenue Service in 1986-87. He has been on the executive board of the State Bar Tax Section, and has served as chair of the Teaching Tax Committee of the ABA Section on Taxation. He has been a member of the Governing Board of the California Continuing Education of the Bar. He has testified before the California Commission on Tax Policy for the New Economy and the Assembly Judiciary Committee regarding creation of a state tax court, and has testified before the Caliorinia Assembly Budget Committee and Revenue and Taxation Committiee regarding tax policy with respect to abusive shelters. He is the graduate group chair for the UC Davis Masters of Law in International Commercial Law. He is a member of the American College of Tax Council and the American Law Institute.
Professor Simmons is a frequent speaker on current developments in Federal income taxation, issues of partnership taxation and abusive tax shelters, among other topics.
Professor Simmons is currently serving as the chair of the University of California Academic Senate and as a faculty representative to the UC Board of Regents. He previously served as the vice-chair and chair of the UC Senate in 1993-1995. He twice served as the Chair of the UC Davis Academic Senate, in 2004-2006 and 1991-1993. He has also served as Associate Provost for Educational Relations in the University of California Office of the President. His responsibilities in that position included the early development and planning for UC Merced.
Outside of tax, Professor Simmons has served as a member of the UC President's Advisory Council on the National Laboratories, the National Security, Laboratory Security and Environmental Safety and Health Panels of the President's Council. He is an active ski-racer in the Far West Masters and races an eighteen foot sailboat in the Mercury class.
Read Chair Simmons' Report on Shared Governance