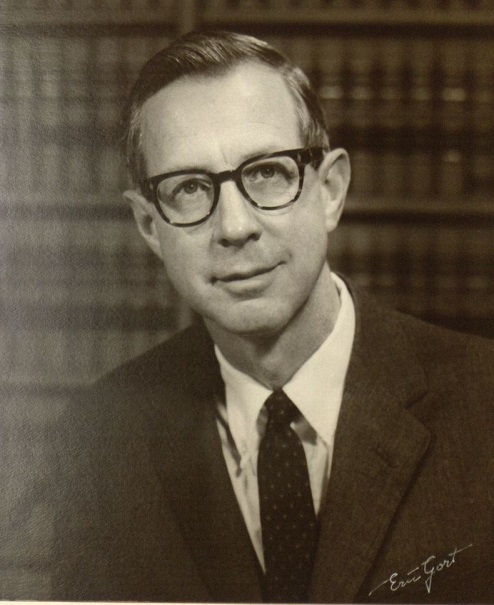 In Memoriam
William Warren
Professor of Law
UC Los Angeles
1924-2017
William Warren, a former dean of UCLA School of Law who left a lasting imprint on the school and the nation's commercial laws, died on May 30, 2017. He was 92.
UCLA Law grew into its current position as one of the nation's premier law schools during Warren's tenure as its fourth dean, from 1975 to 1982. Those pivotal years were marked by expansion of the school's trailblazing clinical education program, stronger ties to the firms and institutions that hire law school graduates, and a growing reputation as a place where rigorous scholarship, public service and a collegial atmosphere are prized attributes.
People from all corners of the UCLA Law community unanimously recalled Warren as a humble and kind leader, as well as a beloved professor who was one of the nation's leading scholars in bankruptcy and commercial law.
Warren, who was also the school's Michael J. Connell Distinguished Professor of Law, embraced faculty, staff and students alike as wise peers, and strove to rid legal education of what he deemed "the old, sadistic, humiliating type of classroom harassment from teachers."
Generations of students responded in kind. Warren was chosen as Professor of the Year by the UCLA Law classes of 1965, 1969, 1971, 1982, 1984, 1986 and 1991. He won the same honor while teaching at the University of Illinois College of Law in 1959 and at Stanford in 1973. Warren also received UCLA Law's Rutter Award for Excellence in Teaching in 1984 and the UCLA Distinguished Teaching Award in 1985.
Warren was born in Mount Vernon, Illinois, and served in the Army Air Force on the island of Saipan in World War II. He attended the University of Illinois on the G.I. Bill and earned his undergraduate degree in 1948. Inspired by Irving Stone's seminal biography Clarence Darrow for the Defense, Warren pursued a law degree at Illinois and graduated in 1950. After several years as a law professor at the Ohio State University, Vanderbilt University and Illinois, he received a J.S.D. from Yale Law School in 1957.
Already an academic of high stature when he joined UCLA Law's faculty two years later, Warren's work, especially with longtime collaborator Robert Jordan, formed the foundation of contemporary commercial law and made UCLA Law the leading center for the study of that field and bankruptcy. He authored numerous influential articles and books, including two definitive casebooks: Commercial Law with Jordan and, later, Steven D. Walt; and Bankruptcy with Jordan and, later, Daniel J. Bussel and David A. Skeel Jr.
Warren, again along with Jordan, was also the drafter of Articles 3, 4 and 4A of the Uniform Commercial Code, statutes that continue to govern payments law across the country.
Warren left to join Stanford's law faculty in 1972, but he returned to UCLA Law to accept the position of dean in 1975. In 1994, UCLA Law established the William D. Warren Chair in Law in his honor, and his many other accolades included a lifetime achievement award from the State Bar of California in 2000.
Colleagues recall Warren as a jogger, avid reader and classical music enthusiast who continued to join his former coworkers at simulcast Metropolitan Opera performances well into retirement.
Warren is survived by his wife, Sue; sister, Shirley; children Dr. John Warren (Dr. Silvana Volpe) and Sarah Warren; two grandchildren and two great-grandchildren. The family requests that any donations in Warren's honor be directed to UCLA School of Law.
In a lengthy interview in 2000, Warren reflected on his career, the school's achievements and aspirations, and the ups and downs of teaching and being an administrator. "I've been a very fortunate person," he said. "Unlike nearly everyone else I know, I've spent my life doing exactly what I always hoped to do."