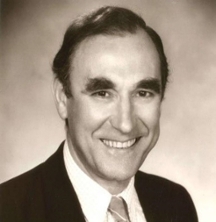 In Memoriam
Walter F. Coulson
Professor Emeritus of Pathology
UC Los Angeles
1926-2018
Dr. Walter Frederick Coulson, age 91, died peacefully at home, surrounded by family on Thursday, March 22nd, 2018 in Beverly Hills, California. Dr. Frederick was born in Harrogate, Yorkshire, England on December 17, 1926 to Frederick and Elsie Coulson. He attended the University of Edinburgh where he graduated M.B., ChB. with honors in 1949. He returned to Edinburgh as a postgraduate in Pathology, graduating in 1954 with first class honors.
Professor Frederick expertise led to an offer to write a new standard textbook for surgical pathology, which he edited and was a major contributor to. It was published in two volumes in 1979. In 1957 he was awarded a research scholarship at Yale University Medical School. In 1960 he became Assistant Professor of Pathology at the University of Utah, and immediately availed himself of the outdoorsman's life, including fishing, hunting and skiing. The camping habit he began in Utah continued throughout his later family life. In 1966 he was awarded a fellowship to University College London, and in 1968 he transferred as Chief of Surgical Pathology at UCLA School of Medicine, where he remained until his retirement.
Professor Frederick was in high demand as a visiting pathologist, lecturer, and researcher around the world. This included a consultancy in Pathology to the Atomic Bomb Casualty Commission in Hiroshima, Japan, and a visiting lectureship at Nine Wells Hospital and Medical School, Dundee, Scotland. Professor Frederick and his wife Molly, took great pleasure in his appointments at the Royal Brisbane Hospital, Queensland, Australia, and the University of Otago Medical School, Dunedin, New Zealand. During his active years he continued to enjoy all things British, and in 1992 began regular sojourns to his village cottage in Welburn, Yorkshire. A keen amateur genealogist, he enjoyed tracing his ancestry from countryside church records and cemeteries around Yorkshire, managing to track back a working class family tree to the 16th century. Moreover, he made it a priority to keep in touch with his extended family and friends with regular visits. Always good with his hands, Walter expressed his artistic side with many projects, including stained glass windows, hand crafted hardwood furniture, and Maori-style bone carvings.
With his wife Molly, he was a member of the demonstration team of the California branch of the Royal Scottish Country Dance Society. Professor Frederick took great pleasure in the English language, and was a regular user of his many dictionaries. His rich vocabulary delighted and challenged us all. A teacher at heart, he took pride in the success of his decades of students.
Professor Frederick is survived by his wife of 33 years Molly Coulson of Beverly Hills, brother Ronald (Helen) Coulson of Copmanthorpe, York, his children Andrew (Joan) of Laguna Hills, Wendy of State College, PA, Thomas (Barbara) of Washington, GA, Victoria of Santa Monica, and Laura (Zach) of San Diego, stepsons David Bennett of Lakewood and Douglas Bennett of Altadena, the mother of his children Kay Lindahl of Long Beach, and 9 grandchildren.