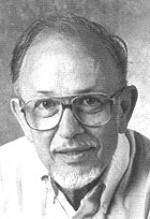 In Memoriam
Verne N. Schumaker
Professor Emeritus of Chemistry and Biochemistry
UC Los Angeles
1929-2017
A native Californian, Schumaker was born in McCloud, California on September 16, 1929. He began his college work at Stanford University and then interrupted his education to serve in the Signal Corps of the U.S. Army in Korea. He returned to study at the University of California, Berkeley, where he graduated with his A.B. in Physics with Phi Beta Kappa honors in 1952.  He remained on the Berkeley campus to do graduate work in biophysics, and in a remarkably short time, he received his Ph.D. in 1954.  It was while he was a graduate student with Professor John Gofman, one of the early pioneers in work with lipoproteins, that he began his investigations of lipoproteins. Schumaker's thesis work involved, among other things, the development of a theoretical basis for use in analyzing the ultracentrifugal behavior of lipoproteins; this treatment was then tested with both normal and abnormal lipoprotein preparations. In postdoctoral work with Professor Howard Schachman, he broadened his interests to research on nucleic acids.  
Schumaker joined the UCLA faculty in 1965. He continued his active interest in lipoprotein characterization, metabolism, and function throughout his long research career as a faculty member – first in Biochemistry in the Medical School at the University of Pennsylvania (1957-1965), and up until his retirement in 1994 as Professor of Molecular Biology in the UCLA Department of Chemistry and Biochemistry and the Molecular Biology Institute.  After he retired in 1994, Schumaker continued conducting research and mentoring students until 2015. During that time, he also co-authored 14 papers and co-taught several classes.
In addition to his lipoprotein research, Schumaker's work on the structure and mechanism of activation of the first component of the complement cascade, which leads to activation of defense mechanisms, was a major advance in molecular immunology. His laboratory was also involved in defining the nature and extent of segmented flexibility in IgG antibodies and its relationship to their biological function, along with other studies of antibody structure and function.  
Schumaker served as associate director of the Molecular Biology Institute from 1975 to 1978 and Vice Chair of the UCLA Department of Chemistry and Biochemistry from 1981 to 1984. The awards and honors he received include the 1973 McCoy Award for Outstanding Research, a UCLA Alumni Association Teaching award in 1977, and the H. Murray Clark Lectureship at San Jose State University in 1984.  
 A leader in stimulating lipoprotein research at both the national and local levels, Schumaker served as a member and then chair of the Biochemistry and Biophysics Study Section of NIH from 1973 to 1977, and was on the Editorial Board of the Journal of Biological Chemistry from 1974 to 1980.  He was Chairman of a Gordon Conference on Lipid Metabolism, and served on the Advisory Board of the Specialized Center of Research on Atherosclerosis for the Cardiovascular Research Institute at the University of California, San Francisco.  At UCLA, Schumaker served for fifteen years as Principal Investigator for a large USPHS Program Project Grant in Molecular Genetic Approaches in Atherosclerosis, and also as a Principal Investigator for a USPHS Training Grant Program in Atherosclerosis Research.  
He is survived by his wife Carolyn Schumaker and son Mark Schumaker, a professor of mathematics at Washington State University.