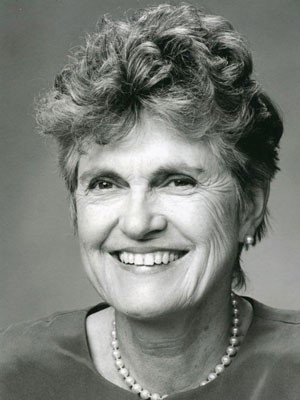 In Memoriam
Susan Ervin-Tripp
Professor of Psychology, Emerita
UC Berkeley
1927-2018
Susan Ervin-Tripp, a founding leader in the fields of psycholinguistics and sociolinguistics, died on November 13, 2018, at the age of 91, in Oakland, California. She was born on June 29, 1927, in Minneapolis, Minnesota. She completed her undergraduate education in 1949 at Vassar College, where she studied art history, and then earned a Ph.D. in social psychology in 1955 from the University of Michigan. Her dissertation was on the link between bilingualism and cognition, and she then worked on the Southwest Project in Comparative Psycholinguistics and studied effects of Native American languages on cognitive processes.
Ervin-Tripp taught at the Harvard School of Education before coming to the University of California, Berkeley, in 1958 as a visiting professor in the Department of Psychology. She then moved to the Department of Speech (now Department of Rhetoric), but returned to the psychology department as a full professor in 1975. She was also a research psychologist in the Institute of Human Development and the Institute for Cognitive and Brain Sciences, and was a core faculty member in the development of cognitive science at Berkeley. 
Ervin-Tripp was repeatedly a pathbreaker—and the paths that she helped explore have become well-traveled roads.  It is remarkable to see so many innovations in one life story: studying both psycholinguistics and sociolinguistics, embracing new directions in the study of first-language acquisition as well as bilingualism, and repeatedly applying new technology in her research. Beginning with her doctoral research on French-English bilinguals, and continuing with a study of Japanese war brides, Ervin-Tripp revealed differences in values and orientation—within a single individual—depending on the language being spoken. Her early child language research focused on acquisition of phonology and grammar—again, comparing children learning different types of languages. In the 1950s, she pioneered in tape recording children's interactions with parents in their homes, transcribing and coding speech for computer-aided analysis in an era when one had to devise search programs and deal with punched cards and voluminous printouts. In the 1970s, she brought the first available video cameras into homes and preschools to add patterns of activity and gaze direction to studies of language in discourse.  She expanded her research to patterns of family interaction, peer play, humor, and politeness, combining her concerns with the individual and the group. All of these innovations led to new formats for transcribing data of multi-personal interaction. This window into everyday communication contributed to the development of the new field of sociolinguistics, extending study of the adult-child dyad to the family, and extending dialog to multiparty interactive discourse. Sociolinguistics went beyond parent-child dialog into the pragmatics of communication.
Ervin-Tripp was a talented and beloved teacher. Beginning in the 1960s, she played a central role in developing cross-disciplinary and cross-cultural research training, mentoring many doctoral students who conducted research in a range of cultures and social settings. She was a cochair of several doctoral dissertations in the other academic disciplines of education, anthropology, linguistics, and rhetoric. She especially enjoyed mentoring undergraduates and sponsored many senior honors projects on child language, bilingualism, and sociolinguistics. She innovated an undergraduate course on bilingualism and always sent students out to listen to language in the field—at home, in public places, in political discourse. She used students' personal observations to hone their academic skills in analyzing language and its use; it is noteworthy how often she encouraged her students to contribute their unique cultural and social knowledge and insights. She nurtured students into careers, at both ­­­–­the undergraduate and graduate levels, looking out for them for years after they were at Berkeley. In addition, Ervin-Tripp collaborated with her psychology colleagues in co-teaching such courses as language acquisition (for graduate students) and the psychology of gender (for undergraduates).
Throughout her long and productive career, Ervin-Tripp was active in multiple efforts to make significant advances for women's equality on the Berkeley campus. In 1969, the Committee on Senate Policy established a subcommittee to investigate and report on the status of academic women on the Berkeley campus, and Ervin-Tripp was one of the subcommittee members who carried out that work. The 1970 subcommittee report (popularly known as "the blue book") was groundbreaking in shining a light on many of the inequities that existed for academic women on campus (whose numbers were then at an historic low). As a result of the publicity received by the report, several changes were implemented in academic hiring practices, and the Berkeley Division of the Academic Senate established a new standing committee on the Status of Women (later to become SWEM, Committee on the Status of Women and Ethnic Minorities). Ervin-Tripp served on this committee, both as its second chair and as a member (1972-74 and 1983-85), and coauthored a guide to the tenure process, which was viewed as blasphemy at the time, but later found its place on the web. She was also an active leader of other relevant groups on campus, including the League of Academic Women (which filed a civil rights complaint about sex discrimination). When the Committee on Senate Policy scolded her for having been a signer of this complaint, her famous reply was that, in the Middle Ages, peasants who were treated badly by the nobles complained to the king.  Ervin-Tripp repeatedly documented pay inequity (for both faculty and staff), representing the UC system to legislative committees in Sacramento. Wherever possible, she used her academic skills as a psycho- and sociolinguist to provide a scientific foundation to her advocacy. She was clearly a powerful and nuanced observer of gender inequity on university campuses and a forceful activist for cultural change. 
She also served on other Divisional committees, including Admissions, Enrollment and Preparatory Education (1970-71), Assembly Representation (1970-71 and 1973-74), Committees (1979-80), and Student Affairs (1990-92), as well as Ombudsmen (1987-89) and Graduate Council (1992-93). 
Among many honors, Ervin-Tripp received a Guggenheim Fellowship and an appointment as a Fellow of the Center for Advanced Study in the Behavioral Sciences in 1974. In 1985, she was awarded a Cattell Fellowship in Psychology and served as a Fulbright Fellow in France, examining second language in migrant workers. In 1994, Ervin-Tripp was invited by the Academic Senate to present a Distinguished Faculty Lecture to the entire campus community. In 1996, an international group of 45 colleagues and students presented a
Festschrift
in her honor:
Social Interaction, Social Context, and Language: Essays in Honor of Susan Ervin-Tripp,
edited by Dan Isaac Slobin, Julie Gerhardt, Amy Kyratzis, and Jiansheng Guo (Lawrence Erlbaum Associates, Mahwah, New Jersey). In 2000, she served as president of the International Pragmatics Association.
In 2016, Ervin-Tripp completed an extensive oral history narrative of her remarkable career and life, "A Life of Research in Psycholinguistics and Work for the Equity of Women."  [
https://ohc-search.lib.berkeley.edu/catalog/MASTER_2067
]  Without a doubt, she was a role model for women students and faculty.  Her life story shows a continuing concern for the contexts in which human beings learn and interact, permeated by a deeply-felt moral imperative to remove obstacles to growth and development, and by a pervading sense of justice and fair play. Her legacy as a voice of conscience on the Berkeley campus will always be remembered.
Although Ervin-Tripp officially retired from the University in 1999, she continued to work actively until her death.  She is survived by her husband, Robert Tripp, a UC professor emeritus of physics; three children, Alexander Tripp, Katya Tripp, and Nico Tripcevich; daughters-in-law Suzanne Murray and Cheyla Samuelson; and granddaughters Clara Tripp, Iva Borrello, and Sofia Tripcevich.
Dan Slobin
Christina Maslach
Rhona Weinstein
2019