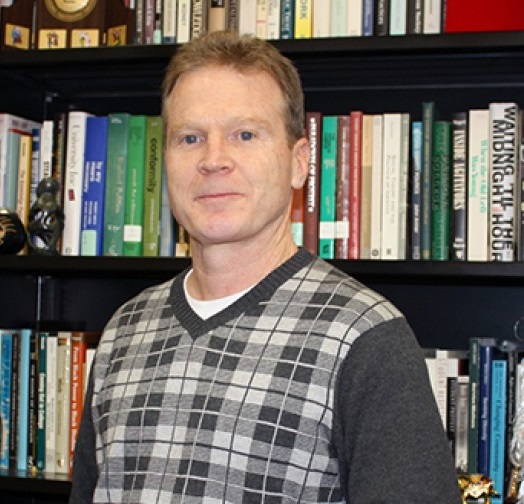 In Memoriam
Robert Rhoads
Professor of Education
UC Los Angeles
1957-2018
Robert A. Rhoads, a professor of education in the division of Higher Education and Organizational Change (HEOC) at UCLA's Graduate School of Education & Information Studies, died on Oct. 25 at the age of 60 at his home in Los Angeles. The co-director of the Educational Leadership Program at GSE&IS, was a scholar of global citizenship, the role of research universities in China, and online learning. His most recent work examined university reform in China and the United States.

Professor Christina (Tina) Christie, chair of UCLA's Department of Education, says that her late colleague was, "a consummate master of the professoriate – an engaging teacher, dedicated mentor, and careful researcher.

"Rob was a committed citizen who always prioritized his service to the department and university. He loved Peet's Coffee, basketball, and especially all of his colleagues and friends at UCLA," she says. "There are no words to express how saddened our community is to have lost our dear friend."

Emily Schlam ('18, Ed.D., Educational Leadership Program), on whose dissertation committee Rhoads had served, notes that, "Rob's commitment to his students was unparalleled. Even when he was very sick, he remained unequivocally devoted to helping me succeed and complete my dissertation project.

"Rob challenged me to put forward my best work and motivated me to excel as a scholar and researcher. He embodied all the characteristics of an extraordinary educator, and even with the most limited interaction, you could experience his brilliance. I cherish the time I was able to spend learning from Rob; I will carry the knowledge and wisdom he gave to me throughout my life. He will always be remembered by his students and will continue to be a part of the wonderful work they accomplish in the educational community. I am truly honored to have been his advisee, and I feel tremendous sadness in the loss of my mentor and teacher."

Linda Rose, who directed ELP with Rhoads, says that her colleague had, "a very clear vision of ELP's strengths and insisted that the program reflect continuous review and refinement."

"During the past months, Rob struggled with his cancer and with his desire to meet the needs of his Ed.D. and Ph.D. dissertation students," says Professor Rose. "We all hoped that the cancer would lose out to this desire but it was not to be. He was noted for providing extensive feedback on students' papers. He was also consistent in helping students to create the best dissertations that they could.

"Despite his many accomplishments and awards, Rob was very modest and preferred to compliment others on their accomplishments. October 2018 was a very sad month for ELP, for the UCLA Department of Education, and for its students and alumni."

In 2012, Rhoads' book, Global Citizenship and the University: Advancing Social Life and Relations in an Interdependent World (Palo Alto, CA: Stanford University Press, 2011) was recognized as the 2012 Outstanding Publication of the Year by the Postsecondary Education Division of the American Educational Research Association (AERA). UCLA alumna Katalin Szelényi (M.A., '01; Ph.D., '07) co-authored the volume. In 2013, the volume earned similar recognition from the Association for the Study of Higher Education (ASHE) Council for International Higher Education (CIHE).

Rhoads' many other honors include the American College Personnel Association (ACPA) Senior Scholar Award (2004-2005); the ASHE Early Career Achievement Award (1997); the Outstanding Research Award from the American College Personnel Association's (ACPA) Standing Committee for Lesbian, Gay, and Bisexual Issues (1996); and the ASHE Dissertation of the Year (1994).

Professor Rhoads was a visiting faculty member at several Chinese universities including Zhejiang University, Minzu University, Renmin University of China, and Guangdong University of Foreign Studies. His 2014 book, China's Rising Research Universities: A New Era of Global Ambition (With X. Wang, X. Shi, and Y. Chang. Baltimore: Johns Hopkins University Press), explores changes in faculty life at four universities in Beijing.

At UCLA, Rhoads served as an affiliate professor at the Center for Chinese Studies, the UCLA Latin American Center and the Higher Education Research Institute (HERI). Prior to arriving at UCLA, Rhoads was an associate professor in the Department of Educational Administration at Michigan State University. He earned his doctorate in higher education and a master's degree in sociology at Pennsylvania State University. Professor Rhoads was selected as a member of the 2015 class of AERA Fellows.

Professor Rhoads is survived by Xiaoyang Sun, his wife; Carol Filer, mother; John Filer, stepfather; Gary Rhoads, brother; Kim Rhoads Payne, sister and her husband Jeff Payne; Michelle Filer Matthias, sister; Amber Stephens, niece and her husband Robert Stephens; Philp Hughes, nephew and his wife Kristin Hughes; Jessica Sato, niece and her husband Ryo Sato; Alex Terrell, nephew; Samantha Matthias, niece; and Zachary Matthias, nephew.