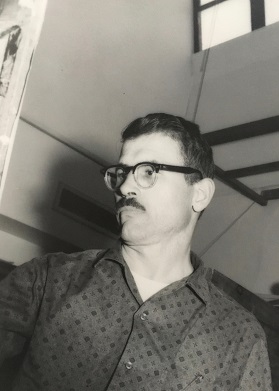 In Memoriam
Robert Leroy Hartman
Professor of Art Practice, Emeritus
UC Berkeley
1926-2015
Robert Hartman taught painting and drawing in the Department of Art Practice at the University of California, Berkeley, for 30 years, influencing generations of student artists. He was a gentle, kind man, whose deep attention to the act of seeing and profoundly insightful critical feedback made a powerful impression on those who encountered him in the classroom.
Bob was born in Sharon, Pennsylvania, December 17, 1926, well into the period called The Golden Age of Aviation. His father was a pathologist, his mother, a baker of fine pies. He had two siblings, Jim and Betty. He first experienced the wonder of flight at age four, when he was taken up in the open cockpit of a Waco biplane. Though he only dimly remembered that first flight, we can assume that seeds were planted… What he remembered well, was that he "was always incurably nuts about airplanes."
As Bob grew, his older brother taught him how to make and fly balsa-wood, scale-model planes, instilled in him a love of nature and wildlife, and set high standards that Bob struggled to meet. When he was a teenager, Bob moved to Arizona for his health. Eventually his parents bought a small ranch on the outskirts of Tucson.
Bob received his B.F.A. and M.A. from the University of Arizona (Tucson) (1947-1952). He also took classes at The Colorado Springs Fine Arts Center (1947, 1951) and The Brooklyn Museum Art School (1953-1954). His teaching job in Lubbock, Texas (Texas Technological College, 1955-1958) provided his first experience of the American South. He and Charlotte (his wife) were shocked, and dismayed by the racial segregation and prejudice that was so rampant and overt. Luckily, the department head allowed him to break his contract, and leave after 3 years. He enjoyed teaching at University of Nevada, Reno (1958-1961), but the climate aggravated his lung problems. His teaching position at UC Berkeley literally saved his life, and also put him in the middle of a vibrant art community.
What was so special about Bob's unique abilities as a teacher was the complete lack of a domineering ego bent on shaping his students. Instead, he worked the most subtle magic with the most gentle manner. He'd quietly step over and observe what each student was working on, say a few sage words —which at the time often seemed like a Zen koan — then just as softly, almost invisibly, step away to leave us to ponder his aesthetic wisdom.
Throughout his career, Hartman maintained an active art practice, one rooted in the careful observation of composition, color, and space he developed through his early engagement with abstract expressionism painting. His tireless search for new modes of expression led him to challenge painting traditions and explore new mediums.
Hartman is perhaps best known for photographic work that brought together his love of art and love of flying. A passionate pilot, he had a revelation in the 1980s that the forms he observed in the landscape, especially the changes wrought by human activity, were related to the compositions he created in his paintings. He began exhibiting aerial landscape photographs taken from the window of his Piper "Clipper" while flying at 100 mph, thousands of feet above the Bay Area landscape. While controlling the plane solely with his feet and knees, he would put the plane into a steep bank and point his camera straight down through the open side window. Hartman's interest in technology was not limited to aircraft; his use of special infrared-sensitive film allowed him to capture wavelengths of light invisible to the human eye, giving his works an alien, yet information-dense color schema, and his use of the Ilfochrome dye destruction print process gives his photographs rich color depth and a unique luster.
By pointing his camera down and eliminating the earthbound view of the horizon that structures the history of landscape painting and photography, Hartman was presaging the birds-eye view that would become the default perspective of the twenty-first century through technologies such as Google Maps. His interest in humanity's destructive effects on the landscape anticipated photographers such as David Maisel and Edward Burtynsky.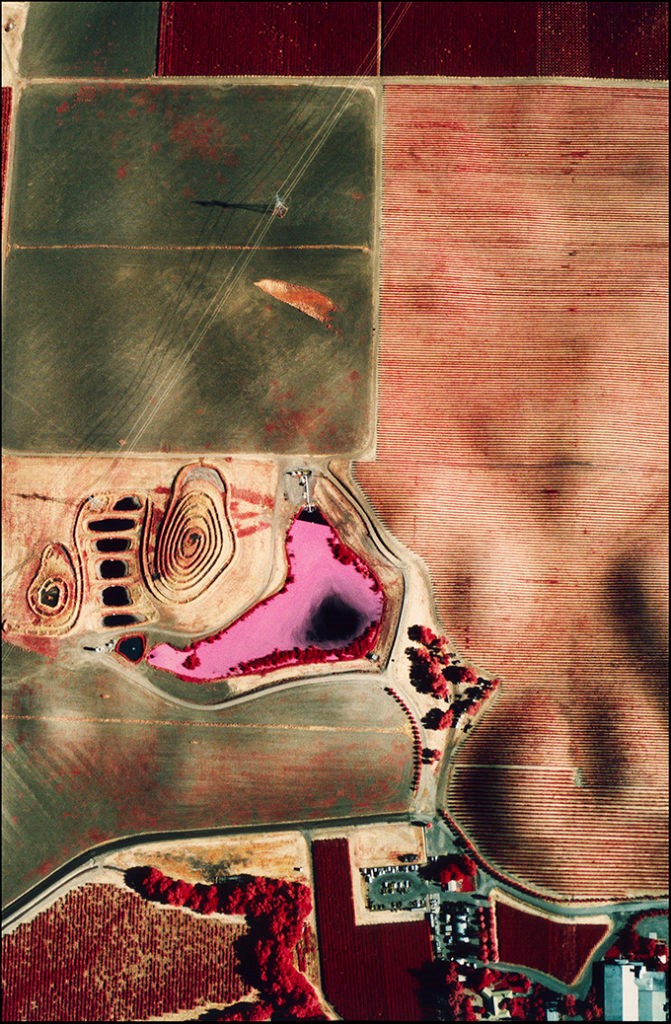 Robert Hartman, "Bird with Square", 2015. Digital Print, 30″ x 24″. Printed by Ty Gurler. Courtesy the Hartman family.
Although he was trained in academic realist painting, Hartman became excited by the dynamic energy of abstract expressionism, and the realization that a painting could be an ongoing event instead of a static tableau of things. These canvases, with their bounded planes of color and painterly passages, are influenced by Hans Hofmann's "push and pull" theory of painting, which played a key role in art education at the department in the 1960s and informed the Berkeley School. Perhaps the hues, geomorphic forms, and wide-open atmospheric fields visible in these works hint at the direction that Hartman's work would eventually take. Hartman used his camera to frame the manufactured landscape so as to create figurative abstractions that represent personal human experiences. Never cropping his photos, these works represent athletic feats of sight.
Robert Hartman was the first director of the Worth Ryder Art Gallery in UC Berkeley's Kroeber Hall, which had opened the year before he arrived in 1961. In 2016 he had an exhibition there, entitled Airborne, that represented a coming home of this brilliant artist, and a celebration of the lasting contribution he made to the department, his students, and the history of art.
He exhibited his paintings and photographic works widely, including at the San Francisco Museum of Modern Art, 1966; San Jose Museum of Art (Calif.), 1983; Wesleyan University (Conn.), 1983; the Whitney Museum of American Art (N.Y.), 1973; and the Richmond Art Center (Calif.), 1977. Major solo exhibitions include
MATRIX/BERKELEY 99
at the UC Berkeley Art Museum, 1986;
Solo Flights: the Aerial Photographs of Robert Hartman
at the Oakland Museum of California, 2002; and
Robert Hartman
at Gallery Paule Anglim (San Francisco), 2011.
Hartman retired in 1991, but remained close friends with many students and colleagues, and delighted in viewing their latest works, discussing art, or simply sharing one of his carefully-crafted martinis. He felt that he had lived an inordinately lucky life: lucky in surviving early and continuing lung problems, lucky in his escape from living and teaching in the racially-segregated Texas of the 1950s, lucky in his career at UC Berkeley, and particularly lucky in wife, family, and friends. Robert Hartman gave his friends and family a full life to celebrate, and a generous spirit to miss.
He died on December 2, 2015. His "one and only love" and wife for 61 years, Charlotte, had died in 2012. He is survived by his brother, Jim, two sons, Mark and Jim, their wives, four grandchildren, and many friends.
Katherine Sherwood
Farley Gwazda
2019