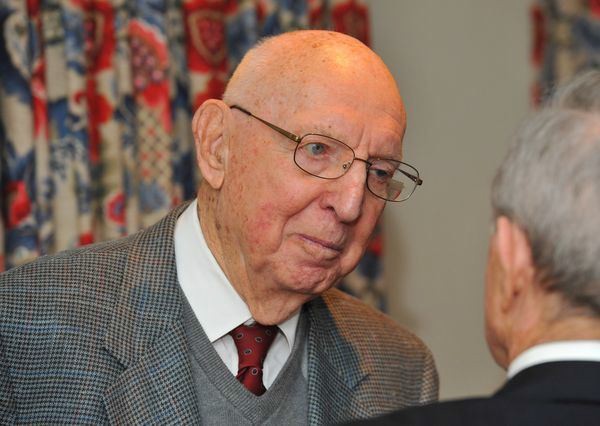 In Memoriam
Richard Maxwell
Professor of Law
UC Los Angeles
1919-2016
Richard Callender Maxwell, UCLA School of Law Dean Emeritus and Michael J. Connell Distinguished Professor of Law Emeritus, passed away in Austin, Texas, on October 7, 2016, his 97th birthday.
He was the school's second dean, and is credited for building the school from its modest early years into one of the top law schools in the country. Under Dean Maxwell's guidance the school embraced clinical and experiential learning, became a pioneer in faculty diversity, created specialized programs in areas such as immigration and communications law, launched its deep commitment to public interest law and more than tripled the size of its faculty.
Dean Maxwell joined the UCLA Law faculty in 1953, four years after the school opened. He served as dean of the school from 1958 to 1969, and remained on the faculty until 1981.
An expert in oil and gas law, Dean Maxwell was an editor of the Oil and Gas Reporter for more than 30 years. He was awarded the UCLA Distinguished Teaching Award in 1976 and the UCLA Medal in 1982.
After leaving UCLA, he became the Harry R. Chadwick, Sr. Professor of Law at Duke University. Over the years he took on numerous roles in service to the profession, including as president of the Association of American Law Schools. At various times he taught at the University of North Dakota, the University of Texas, Hastings College of the Law, UC Berkeley, Columbia University and the University of Singapore.
He achieved the rank of Lieutenant Commander in the U.S. Navy during World War II, and earned his LL.D. from the University of Minnesota in 1947, where he was president of the Minnesota Law Review. Before joining UCLA he worked in the private sector as counsel for the Amerada Petroleum Corporation.