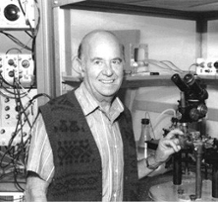 In Memoriam
Ricardo Miledi
Distinguished Professor Emeritus of Neurobiology and Behavior
UC Irvine
1927-2017
Ricardo Miledi, MD, PhD, FRS, Distinguished Professor, and a pioneering neuroscientist, passed away at his home on December 18, 2017 at the age of 90. He received his M.D. from the Universidad Nacional Autonoma de Mexico in 1955. Thanks to the Rockefeller foundation he spent two years at John Curtin School of Medical Research working with Dr. Krnjevic' and Sir John Eccles (1956-1958). Following this, he started as an Honorary Research Associate in the Department of Biophysics at the University College London (1958), became a Professor of Biophysics (1965) and Foulerton Research Professor of the Royal Society (1975). From 1978 to 1984 he was appointed head of the Department. In 1984 he moved to UC Irvine as a Distinguished Professor of the Department of Neurobiology and Behavior (formerly known as Psychobiology).
He received many honors and awards throughout his life for his seminal work on neurotransmission, including being elected Fellow of the Royal Society (1970), Member of the Royal Institution (1972), Fellow of the American Academy of Arts and Sciences (1986), King Faisal Foundation International Prize for Science (1988), Member of the National Academy of Sciences USA (1989), Academy of Sciences Mexico (1991), Member of the European Academy of Arts, Sciences and Humanities (1992), Royal Medal of the Royal Society, England (1998), Prince of Asturias Prize, Spain (1999), UC Irvine Medal (2000), Ralph W. Gerard award (2010), among many others. His outstanding work on synaptic communication was influential in transforming the Neurosciences into the fascinating field as we know it today.
Professor Miledi contributed significantly to the understanding of the nature of quantal neurotransmitter release and synaptic noise (with Sir Bernard Katz), the calcium theory of neurotransmitter release and the molecular mechanisms of supersensitivity and extrasynaptic receptors. Moreover, his passion to determine the earliest appearance of neurotransmitter receptors in muscle led him to the first electrophysiological recording of a frog oocyte. Not only did he determine that neurotransmitter receptors were already expressed in oocytes, but he also implemented an approach that transformed drug-receptor studies. Heterologous expression of neurotransmitter receptors in oocytes is now a standard procedure used in academic and industry laboratories. His major last contribution, the development of the microtransplantation of native receptors is currently providing invaluable information about receptors in neurological and mental disorders.
Dr. Miledi was a private person intensely focused on science. He knew the importance of scientific literacy as a major benefit to society, and was thus a strong supporter of educational programs aimed to immerse young bright scientists in strong research programs. In recognition of his educational efforts, he has twice been named a Forbes Lecturer by the Grass Foundation. He also participated very actively in the PEW Latin American Fellow Programs, The International Brain Research Organization and the Third World Academy of Sciences.
He prepared many generations of impactful scientists that were inspired by his self-motivation and dedication (he personally performed experiments until 2013), and scientific insight during daily chats at coffee time. These scientists are now leaders in academia and industry all over the world. His influence and legacy will continue to be felt for many years to come. Professor Miledi was a great friend who always shared a sincere smile, expert advice and a helping hand. He will be greatly missed.
Professor Miledi is survived by his wife Mela and his son Rico.
Agenor Limon, Assistant Project Scientist
Psychiatry & Human Behavior
Marcelo Wood, Francisco J. Ayala Chair
Neurobiology and Behavior