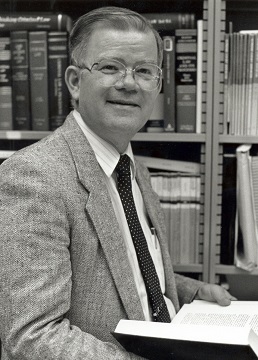 In Memoriam
Phillip E. Johnson
Jefferson E. Peyser Professor of Law, Emeritus
UC Berkeley
1940-2019
Professor Phillip ("Phil") Johnson, Jefferson E. Peyser Professor of Law at Berkeley Law School, died on November 2, 2019. Professor Johnson was born in Aurora, Illinois, in 1940. He received an A.B. degree in English literature from Harvard University in 1961 and then obtained a Juris Doctor degree in 1965 from the University of Chicago, where he was graduated at the top of his class.
After law school, Johnson served as a law clerk for Chief Justice Roger Traynor of the California Supreme Court. Traynor, himself a former professor and acting dean of the Berkeley Law School, was perhaps the most highly regarded state Supreme Court judge of the 20th century. Subsequently, Johnson moved to Washington, DC, to serve as a law clerk for Earl Warren (UC Berkeley Law 1914), Chief Justice of the United States. These two clerkships placed Johnson at the epicenter of some of the most dynamic years of change in the modern American legal system. After his clerkship, he returned to California, where he became a member of the bar. He joined the Berkeley Law School faculty in 1967, where he was tenured and then appointed as the Jefferson E. Peyser Professor of Law. During his career, he held visiting professorships at Emory Law School and University College London. He took emeritus status in 2000.
Professor Johnson specialized in criminal law and procedure, and he published widely. One of his casebooks, Criminal Law: Cases, Materials, and Text on the Substantive Criminal Law in its Procedural Context, was among the most influential of the 1970s, and five subsequent editions were published. Johnson gained a reputation of being an especially dedicated teacher; perhaps the best evidence of this was his conviction that in order to teach criminal law most effectively, he should gain real-world experience. As such, he took a leave from the law school to serve as a Deputy District Attorney of Alameda County. This experience outfitted him to bring a practical understanding of criminal law and criminal procedure knowledge into the classroom. Recognizing the value of such real-world experience placed him far ahead of his time and, combined with his skill and wit, made him a popular teacher. He was unflappable in front of a class, even during the tumultuous decade of the 1970s. Johnson soon gained further scholarly fame for his embrace of the Critical Legal Studies (CLS) movement, a progressive post-modern school of legal thought that began at Harvard Law School and spread throughout the legal academy.  Scholars who subscribe to the CLS approach tend to view law not as a science but as an expression of social power. One of the CLS movement's central goals was to dismantle social and economic hierarchies entrenched in law, but Johnson proved to be an iconoclast, even within CLS, because he deployed the ideas of CLS to reach politically conservative, and eventually Christian, conclusions. Johnson sometimes joked that he represented the entire right wing of the movement. 
In the 1980s, Professor Johnson's focus shifted in a new direction. After a religious conversion to Christianity following a divorce, he embarked on a study of Darwinism and evolutionary theory. Johnson employed legal reasoning to evaluate Darwin's work and the scientific consensus built around it. This process led him to question the accepted wisdom of evolutionary theory. As he stated to an interviewer, "I wanted to know whether the fundamentals of the Christian worldview were facts or fantasy. Darwinism is a logical place to begin, because, if Darwinism is true, then Christian metaphysics is fantasy." In 1991, after several years of study, Johnson published Darwin on Trial, setting out his thinking on the issue. The book proved to be highly influential and became a foundational text for the Intelligent Design movement. Because of the book, his frequent articles and speeches over the next decade, and his work with students, Johnson became known as the "godfather of the theory of Intelligent Design" and those who have adopted his ideas remember him with great respect and affection.
Johnson and his second wife Kathie were instrumental in the founding the of Torrey Honors Institute, a great-books program at Biola University, a private, evangelical college in Los Angeles. Johnson's importance to Biola is illustrated by the fact that in 2004, Biola established the Phillip E. Johnson Award for Liberty and Truth, with Johnson as the first recipient. In 2008, Biola presented him with an honorary degree at its fall commencement.  In addition, a residence for students in the Torrey Honors Institute is named in his honor. As a teacher at the Institute remembers him, "At the height of his powers, Phil was unflappable and impossible to discourage. He simply blossomed under attack. He loved it. . . . he was the 'Happy Warrior' of the Wordsworth poem 'whom neither shape of danger can dismay...'"
In addition to his research, writing, and teaching, Johnson served the university as an active member of the Academic Senate. His service included roles as a member of the Berkeley Division's Committee on Academic Freedom (ACFR) in 1972-73 and from 1983 to 1985, and he also served as chair of ACFR in 1973-74. He represented Berkeley at meetings of the systemwide Assembly from 1972 to 1976 and served the UC systemwide Senate as chair of the University Committee on Academic Freedom (UCAF) in 1973-74 and chair of the Committee on University Welfare in 1985-86.
A series of strokes that began in 2002 curtailed Professor Johnson's role as an active scholar and advocate. He died November 2, 2019, in Berkeley, survived by his wife and two children.
Robert Berring
2020