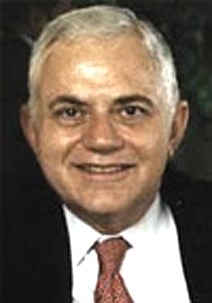 In Memoriam
Michael D. Intriligator
Professor of Economics
UC Los Angeles
1938-2014
Michael D. Intriligator was Professor of Economics, Political Science and Public Policy at UCLA and a Senior Fellow of the Milken Institute in Santa Monica and the Gorbachev Foundation of North America in Boston. Professor Intriligator was the author of more than 300 journal articles and other publications in the areas of economic theory and mathematical economics, econometrics, and health economics. He was Vice Chair and a member of the Board of Directors of Economists for Peace and Security (EPS) and a member of the Council on Foreign Relations (New York), the International Institute for Strategic Studies (London), and the Russian Academy of Sciences (Moscow), and has, in addition, produced analyses of nuclear strategy, arms races, arms control, nuclear proliferation, the outbreak of war, accidental nuclear war, the nature of global security, and international terrorism as well as the reform of the Russian economy.
Professor Intriligator joined the UCLA faculty in 1963. From 1982 to 1992, he directed the UCLA Center for International and Strategic Affairs, the predecessor of the current Burkle Center for International Relations. His research focused on economic theory, econometrics, health economics, and strategy and arms control. He has served as an expert witness on health economic issues for over two decades, has testified before the U.S. Commission on Improving the Effectiveness of the United Nations, and has been a consultant to organizations including the Center for National Securities Studies at the Los Alamos National Laboratory.
A member of the editorial boards of Economic Directions, Defense and Peace Economics and Conflict Management and Peace Science, Professor Intriligator has authored or edited hundreds of professional and general articles and scholarly texts. His standard work, Mathematical Optimization and Economic Theory is now in its 13th printing. A fellow of the Econometric Society, Professor Intriligator was a member of the Council on Foreign Relations, the International Institute for Strategic Studies, a foreign member of the Russian Academy of Sciences.
He received his M.A. from Yale University, where he was the recipient of the Woodrow Wilson Fellowship, and was awarded his Ph.D. from MIT.