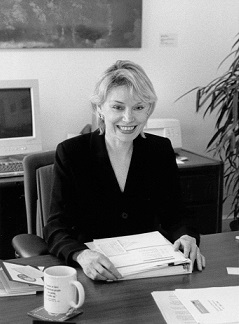 In Memoriam
Mary Ann Mason
Professor of Social Welfare, Emerita
UC Berkeley
1943-2020
Mary Ann Mason was born on August 31, 1943, in Hibbing, a small mining town in northern Minnesota. She received a B.A. cum laude from Vassar College, a Ph.D. in American History from the University of Rochester, and a J.D. from the University of San Francisco. 
When Mary Ann applied for an assistant professor position in the School of Social Welfare in 1989, she was in her mid-40s and director of a paralegal program at Saint Mary's College of California – an unusual start for an exceptional academic career at UC Berkeley. The competition for this position was stiff. Mary Ann's appointment was sealed by a brilliant presentation to the faculty, which drew on material from her book The Equality Trap, originally published by Simon and Schuster in 1988, republished by Transaction in 2002 and again by Routledge in 2017.  
Mary Ann went on to write nine more books, including Mothers on the Fast Track: How a New Generation Can Balance Family and Careers (Oxford University Press, 2008), co-authored with her daughter Eve Mason Ekman (a Berkeley Ph.D.); and Babies of Technology: Assisted Reproduction and the Rights of the Child (Yale University Press, 2017), co-authored with her son Tom Ekman (J.D.). Always eager to establish collaborative ventures, she joined with history professor Paula Fass to edit Childhood in America (New York University Press, 2000), and she helped initiate a lively book group (the group still meets, 25 years later). These conversations resulted in an edited volume, All our Families: New Policies for a New Century (co-edited with Arlene Skolnick and Stephen Sugarman, Oxford University Press, 2002). Never one to put down the proverbial pen, Mary Ann also authored a work of fiction that carried the usual disclaimer "Any resemblance to persons living or dead is unintentional," to which her friends quipped – "right." And she had many friends from all walks of life. Mary Ann and her husband, Dr. Paul Ekman, a renowned psychologist and professor at UC San Francisco (and named one of Time Magazine's 100 most influential people in the world) were a power couple, whose gatherings with friends resembled the salons of times past – laughter, companionship, vibrant conversation, and fine wine.
Mary Ann passed on August 28, 2020. Although a dedicated scholar to her final days, Mary Ann's contributions to the Berkeley community went well beyond her research and writing. Beneath a gentle demeanor infused with charm and wit, dwelt a daring woman of firm resolve. And that resolve served the UC graduate students and the university well when, as the first woman Dean of the Graduate Division (2000-2007), she was instrumental in increasing financial support for students.
As a professor and dean, Mary Ann was intensely curious, especially about the circumstances of women in the university and in other high-demand professions. She made that balancing act seem easy and she was a role model to women across the Berkeley campus. Everything about her confidence, intelligence, wit, and charm said: "I belong here;" when she spoke, women knew that they belonged here, too. She talked regularly about balancing a deep, rich, and demanding scholarly life with children, partners, or elderly family members. But she listened intently, too. She heard the concerns expressed by so many women unable to adequately balance work and family, and turned those stories into a passion to learn more. While serving as dean, she and her collaborators (Marc Goulden, Director of Data Initiatives, UC Berkeley, and Nicholas Wolfinger, Professor, University of Utah) analyzed national data on the career trajectories of men and women in the academy. Findings from the study were published in their jointly authored book, Do Babies Matter: Gender and Family in the Ivory Tower (Rutgers University Press, 2013) and led to significant reforms in family policy for ladder-rank faculty on the Berkeley campus. The Berkeley reforms served as the prototype for family-friendly policies that were widely adopted at universities across the country.
Mary Ann's contributions to the campus also included eight years of service to the Berkeley Division of the Academic Senate, where she served as a member of the Divisional Council and Graduate Council, and she also served a year as a Berkeley representative to the systemwide Assembly. Mary Ann transitioned to her final role as Professor of the Graduate School where she was an affiliated faculty member with the Center on Economic and Family Security at Berkeley Law. 
Smiling and lighthearted, Mary Ann exuded a charismatic magnetism that attracted those around her and enlivened faculty meetings. She was that exceptional breed of activist-scholar whose intellectual and policy achievements are a magnificent bequest to our community and an inspiration to those who follow.
Jill Duerr Berrick
Neil Gilbert
2020