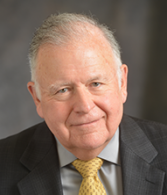 In Memoriam
Martin Wachs
Professor of Civil and Environmental Engineering and City and Regional Planning, Emeritus
UC Berkeley
1941-2021
UC Berkeley and the transportation world lost an esteemed colleague, mentor, friend, and scholar in Martin Wachs on April 12, 2021, at his home in Los Angeles. He was 79 years old. He was a Professor and later Professor Emeritus of Civil and Environmental Engineering and City and Regional Planning and Director of the Institute of Transportation Studies, University of California, Berkeley.
Born on June 8, 1941, Marty was not only the consummate professor, but he was also a committed and loving family man, a sports and lifelong Dodgers fan, and a gardener. He earned his bachelor's degree in civil engineering from City University of New York in 1963, followed by master's and doctoral degrees in civil engineering from Northwestern University in 1965 and 1967, respectively. He also served as a Captain in the US Army Ordinance Corps for two years. Although his degrees were in engineering, Marty also sought out a strong grounding in the social sciences and throughout his career, his work emphasized the linkages between engineering systems and social outcomes.
Marty began his career as an assistant professor in civil engineering at Northwestern University and an assistant professor in systems engineering at the University of Illinois at Chicago. He joined the UCLA faculty in 1971, where he became a Professor of Urban Planning, served three terms as Head of the Urban Planning Program, and became the first Director of the Institute of Transportation Studies at UCLA (1993-1996). During his tenure at UC Berkeley, he was a Professor of Civil and Environmental Engineering (CEE) and City and Regional Planning (DCRP) from 1996-2006; served as the Director of the University of California Transportation Center from 1996-1999 and Director of the Institute of Transportation Studies (ITS) from 1999-2006.
He authored 180 articles and wrote or edited five books on transportation finance and economics, relationships between transportation, land use, and air quality, transportation needs of the elderly, the ethics of transportation forecasting, and the use of performance measurement in transportation planning. His research also addressed equity in transportation policy, crime in public transit systems, and the response of transportation systems to natural disasters including earthquakes.
One of the earliest scholars to tackle the measurement of accessibility, Wachs' 1973 paper with T.G. Komagi, "Physical accessibility as a social indicator," Socio-Economic Planning Sciences, pp.437-456, has been the foundation of five generations of research on transportation access to employment, health care, and other urban services and the consequences for quality of life. His pathbreaking work on the transportation of the elderly drew attention to the growing number of older American car drivers, the difficulties of providing effective transportation alternatives in the suburbs, and the need to recognize the heterogeneity of the older population and their needs. His writings on transportation finance and the role of user fees, in particular the gas tax, made him a highly sought expert by the California legislature on questions of highway finance, where he argued strongly in favor of use-based taxes.
Marty's high visibility in the domain of transportation policy and finance brought prestige to the already strong transportation programs at UC Berkeley. In addition to being a distinguished scholar, he also was an extraordinarily gifted teacher and a generous and caring colleague. He worked very hard to build collaboration between the engineering and city planning departments for a stronger approach to transportation studies. He aimed to create a work environment in which everyone felt comfortable and stressed the importance of treating everyone with respect. He directly supervised close to a dozen PhD students in CEE and DCRP, many of whom are now professors at universities in the US and around the world. He mentored dozens of undergrad and graduate students; taught a highly rated course in Transportation Policy that filled fast and often overflowed; was an undergraduate student ally; and served on several committees in both departments. He also was a stalwart mentor and friend to many. His delight in learning, his integrity, his concern for the less fortunate, and his belief that we could make the world a better place set an example for everyone who had the good fortune to know him and helped his students and colleagues realize that it was possible to excel at work and still have a flourishing personal life.
At the helm of ITS Berkeley, Marty held a deep commitment to the ITS Library, which he considered one of the most important components of the Institute. One of his greatest accomplishments at ITS Berkeley was to support the founding of University of California Traffic Safety Center (TSC), now Safe Transportation Research and Education Center (SafeTREC), in 2000 with ITS Berkeley and the School of Public Health. He worked with others to win the grant that would promote road safety through teaching, research, and outreach. The Center continues to teach two graduate courses related to traffic safety and injury control and conducts dozens of studies for state/local agencies and foundations related to road safety.
Marty also served on the Executive Committee of the Transportation Research Board (1995-2002) of the National Academies of Sciences, Engineering, and Medicine, and was its vice chair in 1999 and chair in 2000.
Upon his retirement from UC Berkeley in 2006, his students honored Marty by creating the Annual Wachs Lecture, which draws innovative thinkers to the University of California to address today's most pressing issues in transportation. The lecture rotates between Berkeley and UCLA, the campuses where he taught.
Marty spent 2007-2010 as a senior principal researcher and director of the Transportation, Space and Technology Program at the RAND Corporation in Santa Monica. While at RAND and in the years that followed, he continued teaching, advising and mentoring students, conducting research, and working on projects, in addition to serving on boards, including the California High Speed Rail Peer Review Group.
His contributions did not go unnoticed. Marty was awarded the Guggenheim Fellowship for his exceptional scholarship, two Rockefeller Foundation Humanities Fellowships, a UCLA Alumni Association Distinguished Teaching Award, Distinguished Educator Award of the Council of University Transportation Centers, National Associate of the National Academies (National Academy of Sciences, National Academy of Engineering, National Institutes of Medicine) Lifetime Appointment, and Best Graduate Advisor Award, Best Professor Award, and Best Seminar Professor Award from UC Berkeley DCRP. He earned TRB's Carey Award for Distinguished Service and was selected for the Pyke Johnson Award for outstanding paper in transportation planning in both 1976 and 2019. In January of 2010, he delivered the Thomas Deen Distinguished Lecture at TRB's annual meeting. In 2006 he was named "Member of the Year" by the San Francisco Chapter of the Women's Transportation Seminar and was awarded the lifetime achievement award as "Distinguished Planning Educator" by the Association of Collegiate Schools of Planning.
Marty Wachs is survived by his wife, Helen; daughter, Faye Wachs; son, Steven Wachs; son-in-law, Navid Ardakani; daughter-in-law, Shirley Tse-Wachs; grandson, Ziya; and granddaughter, Leia. His legacy continues in his innovative work and in the lives he touched through collaboration with colleagues and mentorship of students over the years.
Alexandre Bayen
Daniel Rodriguez
Elizabeth Deakin
Adib Kanafani
2021