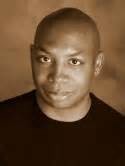 In Memoriam
Mark Sawyer
Professor of Political Science and African-American Studies
UC Los Angeles
1972-2017
UCLA faculty, students and staff in the Division of Social Sciences in the UCLA College are mourning the loss of Mark Sawyer, who was a professor of African-American studies and political science. Sawyer died Sunday, March 26, in Los Angeles. He was 45.
A fierce and consistent advocate for civil rights, justice and equality, Sawyer began teaching at UCLA in 1999 after receiving a doctorate in political science from the University of Chicago. He was instrumental in the creation of UCLA's Department of African American Studies in 2014, the culmination of a process that took nearly a decade. He also co-founded the Race, Ethnicity, and Politics Program in the UCLA Department of Political Science. The program has since attracted large numbers of graduate students, especially African-Americans and Latinos.
Sawyer published widely on racial, political, gender, immigration and coalition politics — always with an eye toward history. His first book, "Racial Politics in Post- Revolutionary Cuba," published by Cambridge University Press in 2006, earned critical acclaim and garnered major prizes in his field, including the Ralph J. Bunche Award from the American Political Science Association and the W. E. B. DuBois Award from the National Conference of Black Political Scientists.
His essays have appeared in SOULS, the Journal of Cross-Cultural Psychology, Journal of Political Psychology, the DuBois Review, Perspectives on Politics, and the UCLA Journal of International and Foreign Affairs.
He served as chair of the African-American studies department from 2011-13 (when it was still an interdepartmental program) and director of the UCLA Center for the Study of Race, Ethnicity and Politics since 2005. He also served as a visiting associate professor at Harvard and a Rockefeller African Diaspora Post-Doctoral Fellow at the University of Texas, Austin. He taught at the Stanford Center for Advanced Study in Behavioral Sciences Summer Institute as well. He was named mentor of the year in 2007 by the UCLA Academic Advancement Program. Most recently, Sawyer taught a graduate seminar on the politics of mass incarceration.
Sawyer is survived by his wife, UCLA visiting scholar in Chicana/o studies Celia Lacayo, and their daughter, Nina.