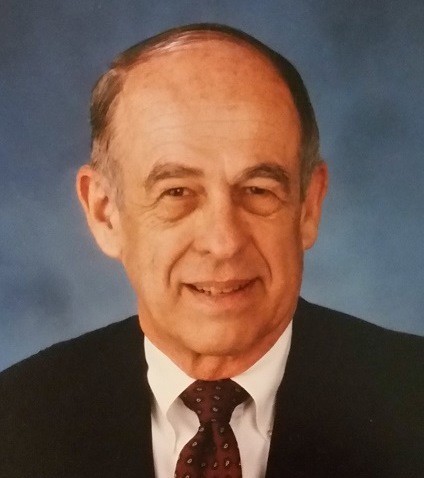 In Memoriam
Lyman W. Porter
Dean and Professor Emeritus of Management
UC Irvine
1930-2015
Dr. Lyman W. Porter, the former dean of the University of California, Irvine, Graduate School of Management (now known as The Paul Merage School of Business) died on July 2, 2015, in Newport Beach, California. He was 85.
Lyman William Porter was born in 1930 in Lafayette, Indiana. He was the youngest of three sons born to Charles Lyman Porter, a professor of biology at Purdue University, and his wife Mary Allen. Dr. Porter wrote in a personal history that he was "a product of a middle-class, middle west upbringing," and continued that his "roots and basic character formation were anchored in my first eighteen years growing up in a college town in Indiana."
Dr. Porter attended Northwestern University, graduating in 1952. He continued his education at Yale University, where he earned a PhD in psychology in 1956. In the same year he joined the faculty at the University of California, Berkeley, where he rose to full professor of industrial psychology. In 1958 he married Meredith Anne, who survives him along with their children, Anne Leisure (Marr N. Leisure) grandsons, John Lyman Leisure and Charles Porter Leisure and William Lyman Porter (Michelle) granddaughter, Sarah Elizabeth Porter and William Lyman Porter, Jr.
Lyman and Meredith moved to Newport Beach, California in 1967 where they began a new chapter in their lives with his appointment as the assistant dean of what was then the Graduate School of Administration at the University of California, Irvine. As assistant dean he was instrumental in starting the PhD program in the GSA. He served with great distinction as dean of the school from 1972 to 1983. His tenure was marked by the creation of strong connections between the school and the business community, primarily through the highly successful Corporate Partners Program and the development of the MBA program. Long after becoming emeritus in 1992, he continued to teach, research and serve his campus. The Dr. Lyman W. Porter Colloquium Room in the Paul Merage School of Business building was named in his honor.
Lyman William Porter was a scholar of great distinction and influence in his field of Organizational Behavioral Psychology. He was one of the primary founders of the study of organizational behavior. His texts are considered classics in the field. He taught and mentored generations of academic and industrial leaders, and played a major role in ensuring that organizational behavior would become an important component of modern business education. His scholarship has been recognized in honors and awards too numerous to count, most prominently: the Catell Award (American Psychological Association, 1969), Scholarly Contributions Award (Academy of Management, 1983), Distinguished Faculty Research Award (University of California, Irvine, 1989), Distinguished Scientific Contributions Award in Industrial and Organizational Psychology (American Psychological Association, 1989), an Honorary Doctor of Law degree (De Paul University) and an Alumni Merit Award (Northwestern University, 1994).
He was an important builder of institutions. In addition to leading the creation of the MBA program at the UCI Graduate School of Management, he achieved AACSB accreditation, a challenging task for such a small, new school. He was the first to build the aforementioned strong community relationships and worked tirelessly to ensure the school admitted the most outstanding students and hired the most promising faculty members, establishing the school's leading global academic reputation that remains today. After his formal retirement he served as Associate Executive Vice Chancellor for Academic Affairs, on committees for the National Academy of Sciences and led the effort to reform and internationalize business school curricula for the AACSB. He also led numerous academic associations, among the most noteworthy: The Academy of Management and the Society for Industrial and Organizational Psychology.
He was a beloved educator, not only to his own students who have gone on to become leaders of their scholarly fields and universities, but of his junior colleagues as well. He nurtured many careers and lives with his wisdom and generosity.
As well as being remembered for his distinguished scholarly contributions, Lyman William Porter will be remembered with great fondness and love by his family for the wonderful husband, father and grandfather that he was during his lifetime.
His life is to be celebrated, and his presence will be deeply missed.
Professor Mary Gilly, PhD
Professor Jone Pearce, PhD
Dean and Professor Eric Spangenberg, PhD