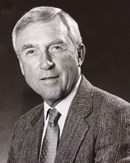 In Memoriam
Joseph William McGuire, PhD
Professor Emeritus, Management
UC Irvine
1925-2016
Dr. Joseph (Joe) William McGuire, born in Milwaukee, Wisconsin, March 14, 1925, passed away peacefully at home on August 29th, in Aliso Viejo, California, at age 91. He leaves behind many who love him including his four children, Larry McGuire, Karen Evans, Eileen Graham-Klotz, and Kevin McGuire, nine grandchildren and five great grandchildren. He is preceded in death by his wife of 50 years; Marge.
Joe was an esteemed Professor of Strategy and administrator on the Irvine campus. His academic achievements include an MBA and PhD degree at Columbia University. He was a Professor/Associate Dean at University of California (1974-1994) where he helped start the Executive MBA Program. Professor Emeritus John Graham says, "He pioneered the international residential courses that have now become an integral part of all MBA programs at UCI." The faculty named the award for highest GPA for a graduating MBA student the Joseph McGuire Award in his honor.
Professor Jone Pearce notes, "He was much admired and respected by his colleagues for the too-often unsung contributions he made to the universities he served. He always fearlessly sought to do what was right. Also, he was a Fellow of the Academy of Management, an honor reserved for the most distinguished scholars in his field."
Joe's humor was always welcome in otherwise dry meetings, and his doodles created in those meetings were intricate and fun. As Professor Pearce comments, "His colleagues (if not always the administrators) especially enjoyed his continuing commentary during meetings and creative doodles." Professor Mary Gilly recalls a typical "Joe" moment: "Many years ago, there was talk that the Richard Nixon Presidential Library could be located on the UC Irvine campus. I attended a very lively meeting where faculty were arguing that the library should be devoted to archives of scholarly interest with minimal exhibit area which would honor the controversial President. After much serious debate, Joe stood to be recognized. He said something like, 'Who cares if the exhibit area is paved in marble or there is a fancy bell tower? After all, this is Richard Nixon's last erection.' The tension in the crowd dissipated with laughter, and ultimately, the library chose another site."
Joe served as a professor and/or administrator at a number of universities prior to joining the Irvine faculty, including: the University of Washington in Seattle (1950- 1963), Fulbright Professor at the Netherlands College of Economics in Rotterdam (1957- 1958), Professor at the University of Hawaii (1962- 1963), Dean of the School of Business at the University of Kansas (1963-1968), Ford Research Professor at Carnegie- Mellon University (1967-1968), Dean of Business at the University of Illinois (1968- 1971), and Vice President of Planning at the University of California (1971-1974) at Berkeley. Joe authored a number of groundbreaking management books including: Business and Society (1963) nominated for the Peabody Award and winner of the McKinsey Book Award. Theories of Business Behavior (1964) and Inequality: the Poor and the Rich in America (1969). He was a contributing author on many other books and wrote scores of published articles on a number business related topics and even had his own early morning television show in Seattle in 1962. He consulted for a number of companies and was also a Director on several different corporate boards.
Joe liked to golf, paint and travel the world with family and friends, and to spend time with his children and their families. Many on the faculty didn't know that Joe, at 17, enlisted in the Army Air Corp and served in Europe during WW II. Joe was certainly modest about his many achievements and contributions.
His colleagues knew Joe as a man of integrity, and admired him for his scholarly contributions, his inclusive leadership, and his dedication to students and junior faculty. Joe was so welcoming, inviting newly arriving MBA and PhD students to call him "Joe," and the rest of the faculty followed suit, creating an intimate learning environment for all. Joe's legacy is the feeling of community in the Paul Merage School of Business.
Professor Mary Gilly, PhD