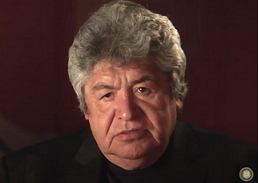 In Memoriam
Joseph A. Myers
Continuing Lecturer, Native American Studies Program
UC Berkeley
1940-2020
Joseph A. Myers passed away on December 29, 2020, due to complications related to his heart. For the last 29 years of his life, he lectured in Native American Studies at UC Berkeley, teaching and developing courses on federal Indian law and tribal governments as well as Native California. The Joseph A. Myers Center for Research on Native American Issues at UC Berkeley bears his name in recognition of his extensive service to the campus and Indian Country. He served as co-chair of the center from its founding in 2010 until his death. Joe, as he invited everyone to call him, inspired his colleagues and students to work for change, and he generously shared his wisdom and knowledge. Known for his generosity and sparkling wit, each year Joe Myers served as emcee of the campus-wide Native American graduation ceremony, offering each student his support and encouragement.
Joseph Myers, a Pomo Indian of northern California, was born on January 16, 1940, in Cloverdale. He began his career as a law enforcement officer in Oakland. He was the first known California Indian to join the California Highway Patrol as an officer. He received his B.A. in Rhetoric from UC Berkeley in 1972 and his J.D. from Berkeley Law (then called Boalt Hall) in 1975. From 1976 to 1983, Myers served as associate director of the American Indian Lawyer Training Program, creating and managing its tribal court advocate training project. During this time, he collaborated with the California Indian Legal Services to bring a lawsuit against the Bureau of Indian Affairs on behalf of his mother, Tillie Hardwick. This case reversed the termination of 17 California Indian Rancheria communities.
Myers contributed significantly to the improvement of education, justice and the quality of life in Indian Country and had a special commitment to advocating on behalf of California Indians. Myers served as the Executive Director of the National Indian Justice Center (NIJC), a non-profit corporation in Santa Rosa, California, which he founded in 1983. As an independent resource for tribal governments and their courts, NIJC creates and conducts legal education, research, and technical assistance programs aimed at improving the administration of justice in Indian Country. Myers was also a founding board member of the California Indian Museum and Cultural Center. Additionally, from 2002 to 2018, he served as Chairperson of the California Department of Transportation (Caltrans) Native American Advisory Committee.
The recipient of numerous awards and professional acknowledgements, Joe Myers received national recognition from U.S. Attorney General Janet Reno in 1993 for his work on behalf of victims of crime in Indian Country. On December 6, 2002, the California Wellness Foundation awarded him the California Peace Prize for his work in violence prevention on Indian reservations. In 2010, Myers received the Peter E. Haas Public Service Award from UC Berkeley.
Joseph Myers has left us with an amazing legacy of achievement and caring, which we will strive to uphold and build upon.
Joseph Myers is survived by his wife Dixie; their children Roxanne Myers, Terry Anderton, Joseph Myers, Jr., Christopher Myers, Martin Anderton, Raquelle Myers, and Nicole Myers-Lim; and their grandchildren Alisa Bechtol, Jasper Anderton, Shawn Dunker, Laurie Secrest, Emily Krause, Tami-Ann Alexander, Scott Anderton, Benjamin Myers, Jennifer Anderton, Jayden and Skyler Lim; and great-grandchildren Darren Alexander, Jude Anderton, Dax Alexander, and Jameson Anderton. He is also survived by his brother Larry Myers.
Juana María Rodríguez
Deborah Lustig
2021