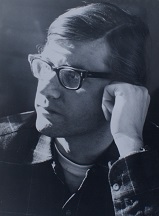 In Memoriam
Jon Jacobson
Professor Emeritus of History
UC Irvine
1938-2020
Jon passed away on February 8, 2020, in Rapid City, South Dakota. His death came after a brief stay in hospice care due to complications of non-Alzheimer's dementia.
Born on February 12, 1938, in Oxnard, California, Jon spent his childhood and youth living up and down the west coast as his father, a Baptist pastor, moved from parsonage to parsonage. After graduating from high school in Selma, California, Jon received his B.A. in history from the University of California, Berkeley in 1959 where he also received an M.A. in 1960 and his Ph.D in 1965.
One of the founding faculty members at UCI, Jon arrived in Irvine in 1965 and taught there throughout his career until his retirement in 2002. Throughout these years, he served the department and the university on numerous committees, but he was particularly attached to his work on both the undergraduate and graduate program committees.
Jon's scholarly interests focused on the problems of war, peace, and international stability in Europe from 1905 until the Cold War. His research was centered especially on the multiple crises that beset Europe between the two world wars, an interest that grew out of his work on Germany in the 1920s. His first book, based on his dissertation, was Locarno Diplomacy: Germany and the West, 1925-1929 (Princeton University Press, 1972). In it he explored the role of diplomacy in first creating and then undermining the stabilization of Europe after World War I. Of particular importance to him were the objectives and strategies of British and German foreign relations during that era as well as the strategies employed by French policy makers to sustain French predominance at a time of German resurgence in the latter half of the 1920s. In 1972, Locarno Diplomacy was awarded the George Louis Beer Prize by the American Historical Association as best book on twentieth-century European international history. His second book, When the Soviet Union Entered World Politics, (University of California Press, 1994) explored the beginnings of the Soviet Union's historic rise to world power as it examined the imperatives of national security, economic development, and socialist revolution in the making of Soviet foreign policy. Jon also wrote numerous articles and reviews over the course of his academic career.
It was not only his scholarship that distinguished Jon's career at UCI for he was first and foremost a truly outstanding teacher. Countless students were introduced to historical ways of thinking in his seminars and lectures. He was the first lecturer to introduce film into the Humanities Core Course and his courses on the Holocaust and World War II were always extremely popular. The graduating class of 1998 named him the Outstanding Professor in the School of Humanities and, in 2001, the History Undergraduate Association selected him as Outstanding History Professor. Together with Marc Kanda, Jon also contributed to the revision of the history curriculum, which is still in use today.
Beyond his academic life Jon enjoyed the natural world, traveling, camping, and photography. In his retirement he explored the Black Hills, traveled throughout the American West, and enjoyed visiting his grandchildren in Colorado. Even after the onset of his illness Jon was always ready for a road trip.
Jon is survived by his wife, Katherine, his sister Sonja, his daughters (Kirsten and Margreta) and two grandchildren (Anika and Dale) who all miss him deeply.
Katherine Jacobson, Ph.D.
Professor Jacobson's Spouse
Keith Nelson, Professor Emeritus
History, UC Irvine
Timothy Tackett Professor Emeritus
History, UC Irvine