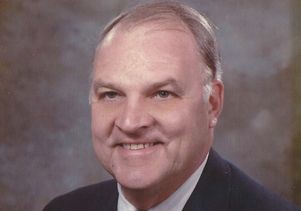 In Memoriam
John Cauble
Professor of Theater
UC Los Angeles
1933-2016
John Russell Cauble, UCLA Professor Emeritus of Theater Arts, passed away Wednesday, December 7, 2016, in California. Professor Cauble was born in Hickory, December 1, 1933, the son of Myrtle and William Cauble. He graduated from Hickory High School in 1952 and from the University of North Carolina in 1956.
On May 29, 1956, he married the love of his life, Martha Thornburg, also a graduate of Hickory High School Class of 1952. In the early 1960s Professor Cauble moved his entire family to Los Angeles, California, where he completed a Masters in Fine Arts at UCLA. He remained in California and taught theater arts at UCLA for 30 years. His many accomplishments while at UCLA were establishing the Theatre Management MFA and helping to set up an Arts Management MBA. Professor Cauble was one of the principle coordinators of the Olympic Arts Festival that was part of the Los Angeles Olympics in 1984. He was instrumental in establishing "Equity Waiver Theater" in Los Angeles and San Francisco. In addition, he set up The New Theatre (T.N.T) through which college and community theatres could engage Guest Artists.
In 1993, Professor Cauble was inducted into the College of Fellows of the American Theatre. Each spring the American College Theatre Festival presents the John Cauble Award for Best Short Play at the Kennedy Center in Washington, D.C. He had a lifelong commitment to the theatre and took great pride in following the many accomplishments of his former students. Professor Cauble is survived by his California family: Martha, his wife of 60 years; his son, John Russell Cauble Jr, his son, Dr. Christopher Cauble and his wife, Christina; and his daughter, Lee and her husband, Salvador Lahoz. He also had five wonderful grandchildren. Professor Cauble is also survived by his North Carolina family; his brother Bill; his sister, Shirley and her husband, Ralph, his sister, Kathy and her husband, Jerry; and numerous nieces and nephews.