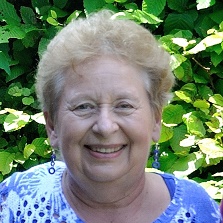 In Memoriam
Joanne Ikeda
Cooperative Extension Nutrition Specialist, Emeritus
Nutritional Sciences and Toxicology
UC Berkeley
1944-2018
Joanne Pakel Ikeda was a pioneer in the field of nutrition education for over 50 years. She was born on May 17, 1944, and grew up along the Susquehanna River in Endwell, New York, the eldest of four children. Her mother was a community nutrition educator for Cooperative Extension in New York. At Cornell University, she majored in human nutrition and food science and later received an M.A. in nutrition education. Following in her mother's steps, Joanne took a job with Cooperative Extension in New York.  After marrying Roy Ikeda, she relocated to California and took a Cooperative Extension specialist position in the Department of Nutritional Sciences at the University of California, Berkeley. She remained in that position until her retirement in 2006. Joanne loved her job, which included teaching, conducting nutrition education research and extending discoveries to the public, particularly to vulnerable populations.
Ikeda is well known for her work with minority communities in California. She was among the first to investigate foodways for Hmong and Vietnamese immigrants and she developed culturally-appropriate education materials to meet their nutrition needs. She also conducted research on the food habits and diet quality of Native American women and families, Hispanic farmworkers and three generations of African American women. Joanne was an outstanding teacher who brought effective cross-cultural educational techniques to students, dietitians, nutrition educators, and health professionals. Her career focused on improving the nutritional health of populations across California and the nation. She taught others to celebrate and embrace cultural diversity.
In the 1980s when the child obesity epidemic began, she worked with health professionals and researchers to synthesize the research available at the time. The data showed that those most affected were children from low-income families. The following decade she developed a variety of training materials for health and education professionals as well as community groups to improve children's access to healthy foods and physical activities in their schools and communities.
Ikeda and colleagues in the Department of Nutritional Sciences established the Center for Weight and Health at UC Berkeley. The center, the first of its kind, facilitated interactions among researchers, policymakers, and community-based organizations to promote healthy weight and reduce food insecurity of children and their families. As the center grew and gained recognition for evaluation and policy approaches to improving nutritional health, Joanne focused on teaching others about the health risks of weight-loss programs. She synthesized the evidence on ineffective and risky weight loss approaches. Her published writings helped to usher in a new era where health professionals better understood the limitations of dieting and weight loss products.
One of Ikeda's outstanding achievements was her work on the Health at Every Size approach that encourages people of all sizes to adopt healthy eating and activity habits. She helped establish an international professional society, the Association for Size Diversity and Health (ASDAH), whose members included dietitians, nutrition educators, psychologists, psychiatrists, physicians and other health professionals who advocate a health-focused approach rather than unhealthy dieting to reduce chronic disease risk. Ikeda received many awards from professional and educational institutions. The one she was most proud of was from the National Association to Advance Fat Acceptance, a membership-supported civil rights organization for fat people. Ikeda was recognized for her efforts to fight against discrimination and stigmatization based on body size.
Over the years, Ikeda provided leadership in her profession including serving as president of the San Francisco Bay Area Dietetic Association, the California Dietetic Association, the California Nutrition Council, and the Society for Nutrition Education and Behavior. She was also active in the Association for the Health Enrichment of Large People, and the National Association to Advance Fat Acceptance.
Joanne saw her role as Cooperative Extension nutrition specialist at the University of California as one where she could identify the most significant diet-related obstacles to the health of high-risk populations and develop strategies and programs to address them. She was a visionary, seeing before others the root causes of nutrition problems and creating effective solutions to reduce health inequities. She provided education and resources for those discriminated and stigmatized for their obesity.
Joanne's passion for helping others was evident in her personal life as well. She was an active member of the National Organization for Women; a mentor at Girls Inc.; a tutor in local elementary schools; and a children's advocate in a youth court program.
Joanne passed away on November 27, 2018. She is survived by her husband, Roy H. Ikeda, and her two daughters, Melinda Mayumi Ikeda and Jennifer Ayame Ikeda. Her family, friends and colleagues will remember her always as a fearless leader who worked tirelessly to protect the nutritional health of the public, and in particular, the most vulnerable among us.
Patricia Crawford
Lorrene Ritchie
Rita Mitchell 
2019