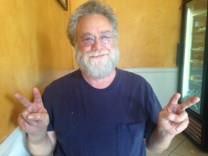 In Memoriam
Jack Johnstone
Professor of Psychology
UC Los Angeles
1953-2016
Jack Johnstone, of Burbank, CA passed away suddenly on April 4, 2016 at his home. He was 62 years old. He is survived by his daughters, Flora Q. Johnstone and Amy (Johnstone) Martling as well as his ex-wife, Sally Q. Johnstone and his current partner, Barbara Flinn and his sister, Mary (Johnstone) Tall and her family. In addition, he had one granddaughter, Amelia Grace Martling, whom he adored.
Jack was born in Brooklyn, NY to Dr. William C Johnstone and Charlotte Alice Van Wicklen Johnstone on June 1, 1953. He grew up in Lynbrook, Long Island, NY and attended Lynbrook Public Schools. Jack had a special passion for baseball which started as a young boy. He wrote a book about baseball and had his very own baseball museum in his home as a youngster. Jack was also a talented musician and loved to sing and play the guitar. He played the leads in his high school musicals making his family very proud. He took courses at Columbia University while in high school which allowed him to graduate early and attend Case Western Reserve University in Ohio. He transferred to Antioch College in Ohio after one year graduating with his BS degree while living in "the barn" and playing local gigs in a rock bank with his friends. One of his most treasured experiences was traveling extensively throughout Europe with the Antioch College Choir touring churches and monasteries singing Ockeghem music. He met lifelong friends at Antioch College who will miss him immensely.
Jack and Sally moved to San Francisco in 1975 where Jack began collaborating with a very special group of individuals at the Langley Porter NeuroPsychiatric Center who would become treasured family friends. Jack attained his Ph.D. in Psychology from UC San Francisco. Both of his daughters were born in San Francisco.
The family moved to Los Angeles in 1982 where Jack worked with The New Hope Pain Center studying and offering successful remedies for chronic pain, afterward setting up his own lab to offer EEG studies.
Jack Johnstone, PhD was the President and CEO of Q-Metrx, Inc. which the Los Angeles EPCU collaborates with for services to clinicians and researchers, focusing on qEEG and ERP analysis, and sleep disorders. Q-Metrx and PAREXEL have been working closely since 2007, using neurophysiological methods to assess safety, and effects of new compounds on CNS activity.
Dr. Johnstone held a PhD in psychology from the University of California and his research interests include brain electrical activity, neuromodulation, clinical neuroscience, sleep disorders and cognitive development. He was an Associate Researcher at the Department of Psychology at the University of California and had acted as a Principal Investigator on three studies. Dr. Johnstone held several Scientific and Professional Society Affiliations, had written a book chapter on the uses of qEEG, written several articles and presented at many scientific meetings, workshops and invited addresses.
In addition to his consulting work for PAREXEL he had also consulted for Neurobehavioral Research, Inc. and numerous pharmaceutical companies.
Jack's greatest loves included rock and roll, soaking in the California sunshine, the ocean, natural beauty, politics, the arts and sciences and most especially, his two daughters. He had a hugely successful career spanning nearly 40 years. He was highly respected for his intelligence, education, professional expertise and hard work to further the brain sciences, as well as his humor, charm and positivity.