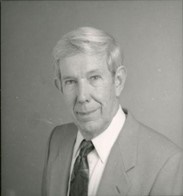 In Memoriam
Harold Frank Way Jr.
Professor of Political Science, Emeritus
UC Riverside
1929-2016
Dr. Harold Frank Way Jr., Professor Emeritus of Political Science at the University of California, Riverside, passed away Sunday, December 4, 2016, at his home in Pasadena. He was 87 years of age. Dr. Way was an expert on criminal justice and one of the people who shaped UCR's early history. He taught and researched the constitutional rights of criminal defendants and the religious liberty clause of the First Amendment at UCR for 34 years. He published widely in books, anthologies, and journals.
Professor Way came to the University of California, Riverside in 1957, when it was still just a three-year old liberal arts college, to teach in the Department of Political Science. Over the years he participated in building UCR into a modern university complete with sophisticated graduate programs. He served as a dedicated teacher, researcher, and administrator until his retirement in 1991. An expert on constitutional law, criminal justice, and religious liberty, he was the author of many books and articles on these subjects.  His 1964 book, Liberty in the Balance, went through five editions.
A gifted and committed educator, he received the Distinguished Teaching Award in 1988 from the UCR Academic Senate, especially for his work in the course "Constitutional Law: Fundamental Freedoms." He served as the pre‐law advisor at UCR for many years and achieved great joy from helping students attain their dream of attending law school. In addition to his scholarship and teaching, Professor Way served as Divisional Dean of Social Science from 1968 to 1969, Assistant Vice Chancellor for Student Academic Services from 1970 to 1973, and Chair of the Political Science Department from 1977 to 1988, the longest term in the history of the department. "While not a founding faculty member in the strict sense, Way helped sustain UCR through its earliest growth," said Milagros Peña, former dean of the College of Humanities, Arts, and Social Sciences.
In an oral history* recorded in 1998, Dr. Way described his advocacy for increased enrollments and new graduate programs. He also described his impressions of Riverside and the fledgling campus during his first year at UCR, during which he got around by bicycle and shared an office with the first Provost, Gordon Watkins. "There was smog, but I was attracted by all the orange groves and the fragrance of orange blossoms in the winter," Way told Jan Erickson, who did the oral history interviews for the campus. "There were enough movie houses and a few things to do on campus, so it was a good year."
Distinguished Professor of Political Science David Pion-Berlin described him as "warm and congenial." Dean of the Graduate Division Shaun Bowler observed that he "was a successful and skilled administrator as chair and in the college office. Moreover, he held those positions at a key time in the campus' development as it was founded. What we have today when we look around is built upon the foundational work of a generation of people like Frank - and a great deal of those foundations were laid by Frank himself. He is of the generation who took a few buildings on the site of some former orange groves and built a campus of the University of California. Frank was an important and constructive voice in that process. He was long seen as a respected and very well-regarded person on campus because of his role in helping found a campus."
Dean Bowler added that "with students who wanted to learn, and with junior colleagues who needed to learn, he was endlessly patient, endlessly supportive, and endlessly encouraging. He was a strong supporter and advisor to the first female chair of the Department (Grace Saltzstein) and was very much an advocate for junior faculty. After his retirement he still came to the office regularly and would still be willing to spend time to talk and advise. But one of his favorite activities was to talk – about his project on religious freedom and what he was learning about how that was realized (or not) in the US over its history." And "he believed teaching – and teaching well – to be an important part of the life of a professor. He himself was a very good teacher and helped to establish the reputation of the department as one in which teaching was taken seriously. More than that, he knew from personal experience how valuable education could be, especially to our student body (then and now). He saw in our students something of himself and the challenges he faced as someone from a very modest rural background and he strove to help them. So he set out to challenge them – and help them rise to that challenge because he knew that rising to the challenge would serve our students in good stead."
Dean Bowler concluded that "he was, I think it is fair to say, a fierce believer in the idea and values of the UC system, and held a fierce commitment to bring those values to life in an old orange grove with a couple of buildings."
Prof. Way was born in Chillicothe, Missouri, the son of a baker and a homemaker, and earned his bachelor's degree at Northeast Missouri State (now Truman State), and his Ph.D. at Cornell University.
Following his retirement in 1991, he did volunteer work at Rancho Santa Ana Botanic Garden in Claremont, and was a volunteer reading tutor for elementary students in the public schools of Claremont and Pasadena for 20 years. He is survived by his wife Barbara; two daughters; a stepson; and five grandchildren. He has a large extended family in Missouri where a memorial service was held in the spring of 2017.
Prepared by the Committee on Memorial Resolutions with additional information from Dr. J. Medearis and Dr. J. Laursen.