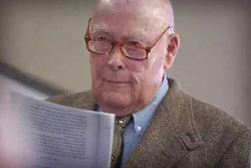 In Memoriam
Francis M. Carney
Founding Professor and Professor Emeritus of Political Science
UC Riverside
1921-2011
Francis M. Carney, founding UCR faculty member and political strategist, died on May 9, 2011 at his home in Riverside.
Dr. Carney was born in the Bronx in 1921, but was raised in Los Angeles. In 1943, while an undergraduate student at Stanford, he enlisted in the Army Air Corps, training as a radio operator for C-47 troop transport planes. During his service, he dropped relief to American soldiers in the Battle of the Bulge, flew in the crossing of the Rhine, and helped fly survivors of the Buchenwald concentration camp.
After returning home from the war, Dr. Carney completed his Bachelor of Arts degree at USC, then returned to Stanford, where he completed a Master's Degree. In 1954, while he was writing his dissertation in political science at UCLA, he accepted a position at the newly established University of California, Riverside campus. It would become his academic home for the rest of his career, though he lectured briefly at other UC campuses as well.
At UC Riverside, Dr. Carney taught and researched history, political science, Constitutional law, civil rights, and other related topics. Known for his analysis of California politics, he wrote The Rise of the Democratic Clubs in California (1958) and co-authored with Frank Way Jr. Politics 1960, Politics 1964, Politics 1968, and Politics 1972. He was also a regular contributor to distinguished national publications such as the New York Review of Books and The Nation.
Outside campus, Dr. Carney was a sought-after political commentator and strategist. He contributed election coverage for ABC News, chaired the Robert F. Kennedy presidential campaign in Riverside County, and led the fight for desegregated housing in Riverside, encouraging his daughters to picket against racist business practices. For 20 years, he also hosted "Jazz on Tuesday" at KUCR, sharing his love of the music with listeners.
Dr. Carney was devoted to service. After he retired from UCR in 1991, he continued to teach a constitutional law course as a volunteer lecturer from 1995 to 2003. He also volunteered for Highgrove Elementary School and was named a volunteer of the year by the Riverside Unified School District.
Colleagues, staff, and students remember Dr. Carney as a brilliant and service-minded professor. "He was a model professor who taught generation after generation about democracy and politics, and then practiced those principles in his own community," former Chancellor Timothy White said.
Dr. Carney is survived by his wife Jane Carney, his children Susan and Robin Carney, Diane Rugg, Mike and Lynne Westafer, Laura McGowan, and grandchildren Joe Rugg, Prahlad Papper, Rebecca and Jack Westafer and Gavin McGowan.
 This memorial was adapted by Laila Lalami from the following sources:
LA Times obituary: https://www.legacy.com/us/obituaries/latimes/name/francis-carney-obituary?id=8157762 
Faculty notification from Chancellor Tim White, May 13, 2011.
The Press-Enterprise obituary: https://www.pe.com/2011/05/11/francis-m-carney-founding-uc-riverside-professor-dies-at-89/
Photo credit: The Press-Enterprise