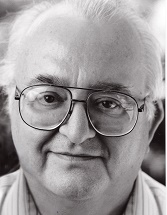 In Memoriam
Edwin E. Dugger
Professor of Music, Emeritus
UC Berkeley
1940-2021
Edwin Dugger passed away in Charlottesville, Virginia on January 20, 2021, at the age of 80 after a long illness.
Born in Poplar Bluff, Missouri on 21 March 1940, Edwin graduated from Brentwood High School in 1958. He studied at the Mozarteum in Salzburg, Austria from 1960 to 1961, and received his Bachelor of Music degree from Oberlin College Conservatory of Music in 1962 and his Master of Fine Arts from Princeton University in 1964. After graduating from Princeton, he returned to teach at Oberlin College. In 1968, he began his thirty-five-year tenure in the Department of Music at the University of California, Berkeley, where he taught music composition, analysis and founded the Berkeley Contemporary Chamber Players. He retired from Berkeley in 2002. 
A protege of composer Roger Sessions, Professor Dugger produced a prolific catalogue of over one hundred works in acoustic and electronic media. His music compositions were commissioned by the Boston Symphony, the Koussevitzky Foundation in the Library of Congress, the Fromm Foundation, and Columbia University, among others. His honors and awards included a Guggenheim Fellowship, a Naumberg Award, and an award from the American Academy of Arts and Letters. His works were performed at venues such as the Mozarteum in Salzburg, the Gulbenkian Foundation in Lisbon, the Milwaukee Art Center, and at the Portland Summer Concerts, the Manhattan School of Music, San Francisco State University, the University of Chicago, and by musical groups such as the Parnassus Ensemble, the San Francisco Contemporary Music Players, the New York Philharmonic, the Group for Contemporary Music, the Chicago Symphony Chamber Music Series, and the Earplay Ensemble, among many others. His legacy of music manuscripts and papers reside at the Oberlin Conservatory Library for future generations to study.
His discography includes numerous works recorded on the Deutsche Grammophon, New World Records, and CRI labels. Music For Synthesizer And Six Instruments was conducted by David Epstein and recorded by Deutsche Grammophon in 1970 and re-released by New World Records in 1999. Intermezzi was commissioned by the Fromm Foundation in 1969, premiered at the Tanglewood Music Festival, and recorded by the San Francisco Contemporary Music Players conducted by Jean-Louis LeRoux. Abwesenheiten Und Wiedersehen was recorded by the Berkeley Contemporary Chamber Players, conducted by Jonathan Khuner, and released by CRI (Composers Recordings Inc.) in 1978. In Opera's Shadow, for four channel tape and twelve instruments, was also recorded by the Berkeley Contemporary Chamber Players, conducted by Michael Senturia, and released on CRI; it was made possible by a grant from the American Academy of Arts and Letters. Septet was recorded by the San Francisco Contemporary Music Players, conducted by Jean-Louis LeRoux, and released on CRI in 1988.
About Abwesenheiten und Wiedersehen (Absences and Reunions) Professor Dugger wrote, "The title of this work should not only invoke programmatic ideas but more importantly should give a clue to the formal structure of the work. The consistent use of musical material from which an obvious compliment is absent and the union of these two complimentary ideas later in the work form the working hypothesis. The most extreme example is the measured silences which occur approximately one-third of the way through the piece." And about Intermezzi, he wrote "All events and phrases are in the state of being 'in between.' There is no expository material. This quality alone could not justify the plural title, if it were not for the manner in which all of these states of 'in-between-ness' shape the entire work. As the piece progresses, each musical thought is interrupted by another of very different character and rhythmic impulse, This procedure manages to separate the various types of 'intermezzi' and at the same time shapes the underlying rhythmic structure of the piece, so that higher levels of progression from one 'intermezzo' to another take place."
At UC Berkeley, Professor Dugger's love of theater led to significant collaborations with other faculty. In the late 1990s, he worked with Professor Emerita Marni Thomas Wood and the UC Berkeley dance program to premiere the Japanese inspired ballet Dojoji with the UC Berkeley Symphony Orchestra. In the Department of Music, he founded the Berkeley Contemporary Chamber Players and conducted many performances of contemporary masterpieces such as Boulez' Le Marteau sans maître. He was a fanatic opera buff who attended the Bavarian State Opera every summer with his wife Kathryn, taught a well-remembered class in Richard Strauss analysis, and in 1990 staged and directed a legendary performance of Debussy's Pelléas et Mélisande in Hertz Hall.
Professor Dugger's love of music was reflected in his teaching. He was a devoted mentor to several generations of students and faculty, and was especially loved by undergraduate music majors, who he served as an advisor for many years. In honor of his retirement, his students along with members of the faculty, commemorated his "mentorship, guidance, dedication, great warmth, generosity, and music" and the inspiration he gave them.
He was also a generous mentor to music composition graduate students. As former composition graduate student Anthony De Ritis wrote, "Professor Dugger and his wife Kathryn, a violist who was no longer active as a player at that time, offered me their instrument, a superb Mittenwald viola, for my entire 6-year stay in Berkeley. Until that time, I was primarily a violinist, and did not have my own worthy instrument. With the Dugger's Mittenwald, I was able to secure positions as a section violist with the Sacramento Philharmonic, and several other 'Freeway Philharmonic' symphonies, such as the orchestras in Redding, Vallejo, Modesto, Monterey, and Chico. Not only was this crucial for my ability to pay rent and live, but it also helped me establish a stronger CV for when I began my job search."
Professor Edwin Dugger enjoyed retirement with his family in Charlottesville, Virginia, from 2004 until his passing. He is survived by his wife of fifty-eight years Kathryn, his son Alan and daughter-in-law Llezelle, his two granddaughters Lauren and Allison, his sister Carolyn, his brother Robert and sister-in-law Sharon, his niece Amy, and his nephew Patrick.
Cindy Cox
2021