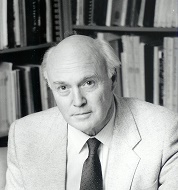 In Memoriam
David Stronach
Professor Emeritus, Near Eastern Studies
UC Berkeley
1931-2020
David Stronach, Professor of Near Eastern Archaeology at Berkeley, passed away peacefully at his home in Berkeley on June 27, 2020. He was 89 years old.
David was born in Nottingham, England in 1931 to Scottish parents. The son of a medical doctor, he spent his early years in the English Midlands, travelling widely in Europe, as well as frequently to see family in his native Scotland. In 1940, with Britain's war with Germany underway, David's mother whisked him and his sister to Toronto, Canada to wait out the war. David spent nearly three years visiting relatives along the Atlantic coast, with lengthy stays in New York City and Virginia Beach.
David returned to Britain in late 1942, travelling by a Portuguese ocean liner to neutral Lisbon. The final leg of the journey was a short but harrowing flight to England in which one of the plane's engine failed. He described how lucky he felt to make it through alive, especially as Nazi fighter pilots downed the next flight on the same path. This would be one of David's many brushes with history.
It was in Toronto that David discovered archaeology and ancient history during his visits to the Royal Ontario Museum, which has a large global collection of antiquities. He explored his interests further at Gordonstoun, an independent boarding school in northern Scotland, where he enrolled soon after his return to England. David recalls how influential the school's founder and noted educator, Kurt Hahn, was on his intellectual development. Apart from his studies, David participated in sports, notably field hockey, track and field, and rugby. He also took part in theater productions. His family, in the meantime, moved their home to a small cottage on the historic grounds of Newstead Abbey, the former home of the poet Lord Byron. A neighbor happened to be Gilbert Insall, a pioneer in archaeological air photography in Britain and the Middle East who had flown for the British Royal Air Force. David recalled how impressed he was with the photographs of Mesopotamian archaeological sites in Iraq that Install shared with him.
Upon finishing Gordonstoun, David fulfilled his obligatory duties in the National Service, joining the First Battalion of the Duke of Wellington's Regiment. He narrowly escaped deployment to the Korean War. Next, he read archaeology and anthropology at St. John's College at Cambridge University, completing his undergraduate degree in 1955 and his master's degree in 1957.
David then began what would be a multi-decade career in archaeological research in the Middle East. The British Institute of Archaeology at Ankara and the British School of Archaeology in Iraq provided fellowships during these early years that supported his training with Britain's greatest archaeologists of the mid-twentieth century. In 1954, he worked with David Talbot Rice in the Palace of the Emperors project, excavating the Byzantine-era palaces of Istanbul. Between 1956-1957, he investigated the Bronze Age settlement at Beycesultan in western Turkey, under the supervision of Seton Lloyd. In 1958, he joined Sir Mortimer Wheeler at his excavations in Charsadda in northern Pakistan, likely the city of Pushkalavati and the ancient capital of the Gandhara Kingdom. Not least, between 1957 and 1960, he joined Sir Max Mallowan in his excavations at the Assyrian imperial capital Nimrud, ancient Kalhu, in northern Iraq. Accompanying Mallowan was his spouse, the British mystery author Agatha Christie. In 1960, David supervised his first independent project, a rescue excavation at Ras al-Amiya in Southern Iraq, where he documented a proto-historic settlement dating to the fifth millennium BCE. He worked with other notable scholars including James Mellaart, David Oates, and Veronica Seton-Williams during these formative years.
One of David's greatest achievements was his leadership of the British Institute of Persian Studies in Tehran between 1961 and 1979. Once the British Academy had warmed to the idea and the Iranian government approved the plan, David was sent in 1960 as the British Academy's archaeological attaché in Iran to lay the groundwork for the institute's future. The following year, he was appointed as the institute's founding director. He successfully grew the institute to be a warm and stimulating research center for Iranian and international scholars to explore the history, archaeology, and culture of the Persian World. It was during this time that David met Ruth Vaadia, a fellow archaeologist from Israel, who had come to Iran to work on the American excavations at Chogha Mish in 1966. They married soon after, and their two daughters Keren and Tami arrived a few years later.
During his leadership, David conducted multiple research projects at some of Iran's most important ancient settlements. He began his work at Yarim Tepe in 1960, working for two years to uncover the second millennium BCE settlement on the Gorgan Plain of northern Iran. In the midst of this work, he initiated an even bolder project to explore the Achaemenid capital of Pasargadae in southwest Iran, founded by Cyrus the Great in the late sixth century BCE. David and his team examined the capital's citadel, palaces, gates, and royal gardens between 1961 and 1963, a study that he and his colleagues later published in 1978. He followed this project with one at the earlier site of Nush-i Jan in western Iran, carrying out five seasons of work between 1967 and 1978. David's work there documented one of the best preserved Median cities, shedding light on what was then a little understood Iron Age society. Concurrently, he co-supervised the excavation of the Parthian city of Shahr-i Qumis.
The 1979 Islamic Revolution greatly disrupted archaeological research in Iran. David and his family were forced to leave the country. He first returned to England, but left soon after to take up a position as Visiting Professor at the University of Arizona. In 1981, he joined Berkeley's Near Eastern Studies Department faculty as a full professor, a testament to what he had achieved in his career by that time. During his Berkeley career, David served as department chair between 1994 and 1997, and trained dozens of graduate students, many of whom went on to successful careers in research and teaching. He was active in Berkeley's Ancient History and Mediterranean Archaeology Program, the Archaeological Research Facility, the Center for Middle Eastern Studies, and was Curator of Near Eastern Archaeology in the campus's Phoebe A. Hearst Museum of Anthropology. He retired in 2004. David continued to serve the university until 2008 as a Professor of the Graduate School.
During his Berkeley years, David dedicated himself to excavating ancient cities in the most northern reaches of the Middle East, often in collaboration with scholars across the world. The list is long and includes the Assyrian city of Nineveh (1987-1989); the Urartian fortification at Horom in Armenia (1992); Velikent in Dagestan, Russia (1994-1997); Kerkenes Dag in Turkey (1999-2003), and Ancient Erebuni in Yerevan, the capital of Armenia (2007-2010).
David was a frequent guest lecturer and professor at universities around the world, and received many honors throughout his career. Among the most prestigious was his appointment to the Order of the British Empire in 1975 and the Archaeological Institute of America's 2004 Gold Medal Award for Distinguished Archaeological Achievement. David's colleagues filled two volumes of the journal Iranica Antiqua with scholarship dedicated to him in his 1998 and 1999 festschrift. He remained fully engaged in research, publishing, and public speaking up until the time of his death, a testament to his commitment to the discipline.
David's family has insured that his research materials will be available to future generations of scholars. His field notes and photographs from his excavations in Iran will be preserved in the British Institute of Persian Studies in Tehran. Some volumes from his personal library will be available in Berkeley's Middle Eastern Languages and Cultures Department's Iranian Studies Library. His field notes from his projects in Armenia, Iraq, Russia, and Turkey will be preserved in Berkeley's Bancroft Library.
Benjamin W. Porter
2021