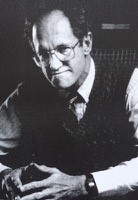 In Memoriam
David Noel Keightley
Professor of History, Emeritus
UC Berkeley
1932-2017
David Noel Keightley was born in London on October 25, 1932, and was at boarding school during the German bombing campaigns of 1940 to 1944. When he was 15, he moved with his American father and French mother to Evanston, Illinois. He attended Amherst College, graduating in 1953 with a double major in English and biochemistry. This combined interest in the artful use of language and rigorous scientific research is also characteristic of his mature scholarship. After Amherst he studied medieval French at the University of Lille on a Fulbright scholarship, and then studied modern European history at New York University. After receiving his M.A. there, he worked in New York as a publisher's representative and editor. Then Keightley made the extraordinary decision to become a scholar of early Chinese history. This meant beginning the study of the most difficult varieties of written Chinese at the advanced age of 30, a move of astonishing boldness. He was admitted to the graduate program in the Department of East Asian Languages and Cultures at Columbia University in 1962, spent the years 1965 to 1967 in Taiwan studying early Chinese texts and working on his dissertation, and received his Ph.D. in 1969.
Keightley's dissertation was titled "Public Work in Ancient China: A Study of Forced Labor in the Shang and Western Chou." This appears to be a specialist topic but in fact it was directed at the view, dominant at the time, that early Asian empires emerged from the need for large-scale irrigation works that could only be built and maintained by forced mass labor controlled by a supreme ruler: "Oriental Despotism." The dissertation was an important contribution, but to produce a book on the subject that met Keightley's high standards required the mastery of the relevant sources, which he did not yet possess. Those sources, inscribed in archaic characters on the shoulder blades of oxen and the plastrons of turtles, were records of the responses of royal ancestors to questions posed by their living descendants. Those records came to be known as oracle bone inscriptions, and learning how to use them absorbed most of Keightley's energy for the next decade. In this work he was aided by contemporary Japanese scholarship, but he insisted in pursuing every aspect of this most difficult of epigraphical challenges down to bedrock. The result was a sinological landmark, Sources of Shang History: The Oracle-Bone Inscriptions of Bronze Age China, magnificently produced by the University of California Press (1978). It is a guide to all aspects of oracle bone inscriptions, perfectly logical in design and uncompromising in realization. The index alone speaks to the character of the book. For example, it has 43 lines of tiny type related to turtle plastrons alone, not to mention a further 23 lines on turtle shells and turtles. These enable the reader to find the names of the four species of turtle represented among the Shang dynasty plastrons, wrapped up with this sample of Keightlean wit: "The [Shang] field tortoise, Testudo anyangensis, who still crawls through many monographs, is probably not extinct, but taxonomically superfluous; the Shang diviners may be absolved of the charge of exterminating the species."
When Sources of Shang History appeared, Keightley had been a member of the University of California, Berkeley's Department of History for nine years. He contributed much to the department and the campus, most notably chairing the department (1992-1994) and the Center for Chinese Studies (1998-1999) and serving as interim director of the East Asian Library (1999-2000). On the national level he served on the Committee for Scholarly Communication with the People's Republic of China and on the Fellowship Committee of the American Council of Learned Societies. Above all, he virtually created the field of early China studies in the U.S. He was one of the founders of the Society for the Study of Early China and served for many years as its secretary-treasurer; he also founded and served as the first editor of the journal Early China. Keightley organized several international conferences on the history of early China, including one in 1978, held in Berkeley, on the origins of Chinese civilization, which resulted in The Origins of Chinese Civilization (University of California Press, 1983), one of the rare symposium volumes in which virtually every chapter breathes the spirit of its editor.
His talents were recognized by numerous fellowships and honors, including a Guggenheim Fellowship and a MacArthur Foundation Fellowship. He was elected to the American Academy of Arts and Sciences in 1986.
Despite Keightley's absorption in the exacting and rigorous scholarly work of Sources of Shang History and his many technical articles, the part of him that led him to study medieval French literature and modern European history remained intact. He was interested in the great questions of his sources and of the human sciences more generally. A selection of his articles published as These Bones Shall Rise Again (SUNY Press, 2014) includes the following titles: "Archaeology and Mentality: The Making of China," "Theology and the Writing of History: Truth and the Ancestors in the Wu Ding Divination Records," and "Clean Hands and Shining Helmets: Heroic Action in Early Chinese and Greek Culture." These suggest two themes he reflected on throughout his career: the nature of Chineseness, and the comparative study of ancient China and ancient Greece—the latter perhaps a line of attack on the former. These articles, tightly conceptualized and written in elegant prose, are a pleasure to read.
Keightley was a passionate cyclist who inspired a number of his colleagues to accompany him on many long runs, even to the top of Mt. Ventoux in France. He also loved singing Gilbert and Sullivan, to whose songs, most of which he appeared to know by heart, he did more than justice in his excellent voice. Keightley was in fact a talented lyricist. He and Berkeley Professor James Cahill, a renowned authority on Chinese painting, wrote brilliant satirical sketches based on tunes from Broadway musicals for the New Year's banquets of the Center for Chinese Studies, when Keightley was chair of the center. And he wrote occasional verse at a high level. This light touch was visible in his undergraduate teaching. He devised a version of "Dungeons and Dragons," a non-computer role-playing game popular in the 1970s, that used Chinese history. This became so popular in his introduction to Chinese history class that he had to discontinue it, lest it overwhelm the rest of the course. He also invited students to submit limericks on subjects from early Chinese history. One seems appropriate here:
There once was an old man named Lao
Who preached the great way of the Tao.
When butterflies zoomed
Or peach blossoms bloomed,
He'd peacefully say a soft "Wow!"
David Keightley died on February 23, 2017. His is survived by his wife, Vannie Louise Traylor Keightley, and two sons, Steven and Richard.
David Johnson
Mary Elizabeth Berry
Thomas Laqueur
2018