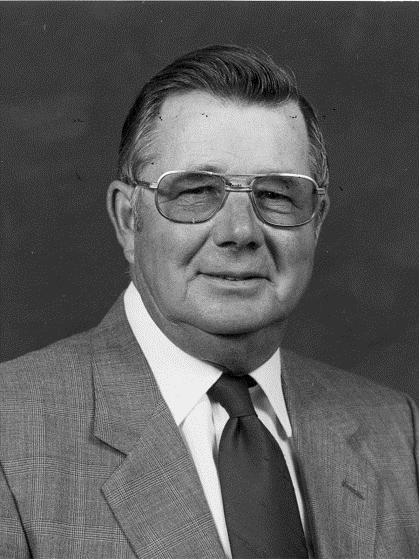 In Memoriam
Charles W. Schaller
Professor of Agronomy, Emeritus
UC Davis
1920-2015
Charles William Schaller passed away on February 12, 2015 at his home in Davis, California. He was born on June 8, 1920 at La Crosse, Wisconsin and raised on a nearby farm. He attended the University of Wisconsin from 1938-46, earning a B.S. in Soil Science, an M.S. in Agronomy, and Ph.D. in Agronomy and Plant Pathology.
Dr. Schaller joined the faculty of the University of California-Davis in 1946 in breeding of wheat (1946-61) and barley (1946-85). He retired in 1985. He was recognized as one of the world's authorities on the genetics and breeding of barley, especially in the area of disease resistance. He and his coworkers developed and released 12 barley and 4 wheat varieties---among them Briggs, Numar, Prato, Sutter, Atlas 54, Atlas, 57, Atlas 68, CM 67, CM 72, UC 566, UC 337, UC 476, UC 603, and UC 828 barley and Ramona 50 and Onas 53 wheat. Dr. Schaller's contributions to California and global barley production will be memorialized by the naming of Schaller barley (2017) in his honor. Additional barley varieties were released subsequent to his retirement, based on germplasm he developed. At the time of his retirement, the increased productivity of Dr. Schaller's varieties was conservatively estimated as providing $30,000,000 annually to California's economy. He served as technical advisor to the USDA Cotton Breeding Program and supervisor of the Variety Testing Program from 1966-79. His many contributions were recognized by commendations from the California Farm Bureau Federation and the California Chapter of the American Society of Agronomy. In 1979 he was presented a Certificate of Appreciation from the Director of the California Department of Food and Agriculture, for outstanding service to California Agriculture and the One-Variety Cotton District. He spent a sabbatical leave in New Zealand, attended and presented at many international fora, and advised international research centers on barley breeding. He participated in a noteworthy review of barley breeding in Tunisia.
Dr. Schaller's research contributions and those of his students included studies on genetic mechanisms of disease resistance, host-pathogen interactions, and plant architecture related to production efficiency. He pioneered the use of isogenic lines of barley having disease resistance to document the impacts of scald, powdery mildew (1951), and barley yellow dwarf (1967) on yield losses. His improved barley varieties combined disease resistance with better straw strength and have proven to be valuable sources of disease resistance and adaptation genes for many countries, especially those in areas with a Mediterranean-type climate. He emphasized powdery mildew, net blotch, scald, and barley yellow dwarf virus (BYD), screening the world collection of barley for resistance to these diseases and identifying several major genes conditioning resistance that became widely used in breeding programs throughout the world. Especially noteworthy was his research leading to the discovery of the Yd2 gene for resistance to BYD. The disease was first identified in California in 1951 and subsequently recognized as a major disease throughout the world on barley, wheat, and oat.
While he developed many barley varieties that dominated California barley production, he spent many years breeding malting barley for California, but his breeding materials never met the fickle standards of the brewing industry. This was his greatest disappointment as a California plant breeder.
As a professor of agronomy, Dr. Schaller was a popular teacher of his undergraduate course, Cereal Crops of the World, and an active participant in teaching activities of the department and college. He was adviser to many undergraduates who became leaders in California agriculture. His 28 Agronomy M.S. and Genetics Ph.D. students likewise made big impacts in research and education in the USA and in many countries. He was immensely proud of his graduate students and they were proud to have such a considerate and generous mentor as they embarked on their professional careers. He was generous with his time in Departmental affairs, serving as Acting Department Chair on several occasions.
He was elected Fellow of the American Society of Agronomy in 1983 and the Crop Science Society of America in 1985. He was a member of the American Society of Agronomy for 67 years and of the Crop Science Society of America since its inception.
After retirement Dr. Schaller spent the following years enjoying life, golfing, fishing, and traveling the world. He is survived by Millie, his wife of 72 years, his sister Vivian Petrie, his children Paula, Charles, and Douglas, six grandchildren and four great- grandchildren.
C.O. Qualset
J.N. Rutger
L.F. Jackson