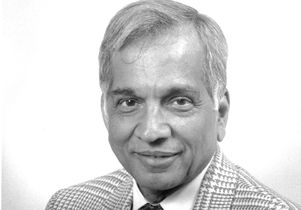 In Memoriam
Chand Viswanathan
Professor Emeritus of Electrical Engineering
UC Los Angeles
1927-2018
Chand Viswanathan, a distinguished professor emeritus of electrical and computer engineering at the UCLA Samueli School of Engineering, died March 12. He was 88.
"Vis," as he was widely known, led a major reorganization effort at the department level, and reached the highest levels of academic leadership on the campus and at the University of California. He had a major impact on electrical engineering education at UCLA. He developed the school's solid-state electronics curriculum for graduate students in the 1960s.
In 1979 he became the chair of what was then known as the electrical sciences and engineering department. It was renamed the electrical engineering department in 1981. He served as the chair until 1985.
During those years, the engineering school was in the midst of an organizational restructuring, from one that had school-centered administration to one with much more autonomy given to academic departments. Viswanathan's leadership during those transitory years was critical.
Viswanathan completed a bachelor's and master's degree at Madras Christian College in India. He came to UCLA in the 1957 to study physics, earning a master's degree in 1959 and his doctorate in 1964 under the late Robert Satten. In 1962 while still working on his thesis, Viswanathan joined the UCLA College of Engineering, as it was called then, as an acting assistant professor. He was promoted to associate professor in 1968, and to full professor in 1974. Viswanathan led research on the physics and technology of semiconductor devices. He was elected as a Fellow of the Institute of Electrical and Electronics Engineers in 1981. Viswanathan was also acclaimed for his teaching. He received the distinguished teaching award from UCLA Academic Senate in 1976 and was honored by IEEE with its undergraduate teaching award in 1997.
Following his retirement in 2005, Viswanathan maintained an active presence in the engineering school for many years. In 2014, Viswanathan received the UCLA Engineering Lifetime Contribution Award, one of the school's highest honors.
Amy Akmal