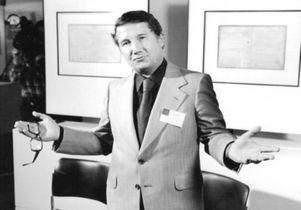 In Memoriam
Carlo Pedretti
Professor Emeritus of Art History
UC Los Angeles
1928-2018
Carlo Pedretti, professor emeritus of art history, and one of the world's leading scholars on Leonardo da Vinci, died Jan. 5, one day shy of his 90th birthday. Pedretti joined UCLA in 1960, where in addition to teaching he held the Armand Hammer Chair in Leonardo Studies. He retired from UCLA in 1993.
In addition to his expertise on da Vinci, Pedretti was a highly sought after expert consultant in cases of disputed attributions. He published 60 books and more than 500 essays, articles and exhibition catalogues in various languages on the many aspects of his specialization.
"He was among the preeminent Leonardo scholars in the world," said UCLA professor Dell Upton, chair of the art history department. Upton added that Pedretti was a founding member of the department and helped it develop into one of the top 10 art history department in the nation, a position it continues to hold. Pedretti was a core member of the faculty until his retirement and continued to be widely sought-after for his expertise following his retirement, Upton said.
"Carlo Pedretti combined great learning and sympathetic insight, and I was not alone in feeling that he had an uncanny gift for channeling the great artist he studied," said Victoria Steele, librarian emerita who served as head of UCLA Library Special Collections and later as librarian for the Willam Andrews Clark Memorial Library and curator of centers, programs and collections in the division of humanities. Steele came to know Pedretti first when she was an undergraduate student at UCLA and later while working with UCLA's Elmer Belt Library of Vinciana collection. "Professor Pedretti will be affectionately remembered by thousands of students and colleagues not only for intellectual integrity, but also for his playful spirit."
Pedretti, who was a member of the Permanent Commission for the National Edition of Manuscripts and Drawings by Leonardo da Vinci, and recipient of the Gold Medal for Culture conferred by the president of Italy and the Congressional Citation from the U.S. Congress, moved to Italy and lived in the Villa di Castel Vitoni in Lamporecchio, headquarters of the Rossana and Carlo Foundation, which he directed up until his death.
Rebecca Kendall