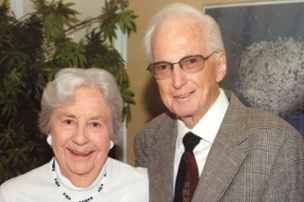 In Memoriam
Bernice Wenzel
Professor Emerita of Psychiatry and Biobehavioral Science
UC Los Angeles
1921-2018
Bernice Wenzel, who upon retiring from the UCLA faculty helped establish an important psychology lecture series, died in Los Angeles of natural causes on January 31. She was 96.
Professor Wenzel, who was a professor emeritus in the physiology and psychiatry and biobehavioral sciences departments at UCLA, served as an assistant dean for educational research in the medical school from 1974–89. In retirement, she and her husband, Wendell Jeffrey, who was a developmental psychologist, were supporters of the psychology department, endowing the annual Jeffrey Lecture series and the Wendell Jeffrey and Bernice Wenzel Term Chair in Behavioral Neuroscience, which Adriana Galván now holds. In 2011, room 3461 in the psychology building was dedicated as the Jeffrey/Wenzel Conference Room in their honor.
Professor Wenzel was born in Fairfield, Connecticut. She graduated in 1942 from Arcadia University with a degree in psychology and a minor in zoology. She earned her doctorate in 1948 in experimental psychology from Columbia University. Before coming to UCLA, she was an assistant professor of psychology at Barnard College, Columbia University and also at Sophie Newcomb College at Tulane University.
In 1956, she came to UCLA as a junior assistant research anatomist in the anatomy department and then was a postdoctoral fellow in the National Institutes of Mental Health training program in the department from 1957–1959. Wenzel became a member of the faculty when she was appointed assistant professor of physiology in 1959. Wenzel held joint appointments in the department of physiology and the department of psychiatry and biobehavioral sciences from 1970–1989.
In 1965, Professor Wenzel made her mark in ornithological circles by showing in her UCLA lab that pigeons smell and use sight and sound to guide themselves — a hypothesis that was not commonly accepted at the time.
Professor Wenzel served as the president of the emeriti association during the 1994–95 academic year. She was also a member of the "Wednesday Group," and informal group of retired campus leaders that continued to meet weekly at the Faculty Center.